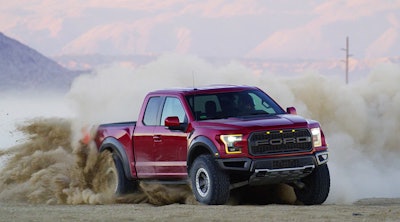 Ford is refuting a story published by Reuters last week which reports that the automaker is holding back delivery of its 2017 F-150 trucks because of tests on its new 10-speed transmission.
Reuters said that Joe Hinrichs, head of Ford's automotive operations, told them in an interview on Dec. 5 that Ford is holding trucks longer "so we could do more testing and make sure everything is right before we release them."
Hard Working Trucks reached out to Ford for comment.
"The Reuters story is wrong," said Mike Levine, Ford product communications manager for North America.
"Reuters says we are delaying delivery of 10-speed F-150s but these trucks have already arrived at multiple dealers. Not sure how that's delaying?"
Reuters reports that a top executive at Ford—presumably Hinrichs—said that delivery of F-150 pickups would be delayed because of transmission tests. That didn't sit well with Levine.
"Launches are complex, and every one of them presents different challenges and opportunities. Our process is to work through any issues and ensure that our customers receive a quality vehicle.
"That said, 10-speed F-150s have been shipping to dealers since last month and are already on sale at Ford dealers."
Levine provided several links to dealers where 2017 F-150s are shown on dealer lots ready for sale.
Hard Working Trucks also reached out to GM, which worked alongside Ford to develop the 10-speed transmission. The automaker is confident in the high-tech gearbox.
"We do not anticipate any delays in any of our 10-speed applications, which will be available in multiple models next year," said Phil Lienert, Chevrolet truck spokesman. "We can assure our customers that we have one of the most robust development processes in the industry and we are confident they will have trouble free experience."
EDITOR'S NOTE: Tom Quimby is the associate editor of Hard Working Trucks, another Randall-Reilly publication. Reach him at [email protected]. Follow him on Twitter @tom_quimby.