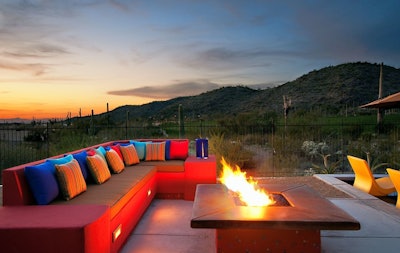 By Lauren Dunec Hoang/ Houzz contributor
Gardens in the American Southwest are just as diverse as the varied natural desert landscapes of the region. Elevation changes create huge temperature swings. Higher elevations can experience intense daytime heat with cold nights and light snowfall in the winter. Across the board, water is a precious resource. Design elements like adobe-mud walls, courtyards, shade structures, and low-water plants including native cactuses, yuccas, and mesquites give Southwest gardens their distinctive character. Whether you live in the Southwest or another arid desert region, here are a number of ideas to get the look in your own garden.
Hardscape
For a classic Southwest look, use traditional building materials like gravel pathways and walls made of adobe mud or dry-stacked stone. Many contemporary landscapes combine traditional elements with more modern materials such as Cor-Ten steel and poured concrete for a striking hardscape design.
Softscape
Southwest gardens often turn to the desert landscape for color-palette inspiration. Warm sandstone, sun-bleached wood, gray-greens of native sage, and vivid hues of the desert sunset are in keeping with the style of desert gardens. Embrace the wildflower bloom in spring with native penstemon species and hairy desert sunflower (Geraea canescens).
Garden Elements
Accent walls. Free-standing walls or those made to stand out with a vibrant coat of paint can be useful design elements, providing screens or creating backdrops for specimen plants. At this home in Phoenix, the designer painted an exterior wall a rich shade of rusty orange. The color complements the blue-gray agaves and soft green ornamental grasses planted in the bed in front of it.
Water features. Environmentally friendly desert gardens recognize water as a life-giving resource that is to be savored and celebrated. While large pools and artificial waterfalls can be attractive features, the water loss through evaporation and the chemicals involved to keep them algae-free make them less sustainable. Smaller water elements, such as recirculating fountains, lose less water through evaporation and can be beautiful and more ecologically mindful focal points for a Southwest garden.
Dry creek beds. Even the illusion of water can have a calm, soothing effect in a landscape design. The designer of this dry creek bed used the natural desert washes of Arizona's mountains as inspiration. Dry creek beds can also be efficient ways to manage stormwater runoff.
To get the look, create a subtle grade change in your backyard with mounds of soil and low-lying areas to mimic a natural stream. Fill the "valleys" with stones and gravel, and plant the "hills" with drought-tolerant shrubs and ground covers.
Pergolas and shade screens. The desert sun, particularly at midday, is intense. Almost all Southwest gardens provide some type of shady respite by incorporating wooden pergolas, shade screens, shade sails made of durable outdoor fabric, or plenty of patio umbrellas. In this home in Taos, New Mexico, a rustic arbor made of sun-weathered logs provides a welcoming shady retreat for the entryway.
Fire pits. In the Southwest, twilight can be one of the most alluring times to enjoy the garden. After the sun dips below the horizon, streaking the sky with color, temperatures begin to drop quickly. Fire pits and outdoor fireplaces provide welcome warmth to gathering spaces.
Plant Types
Cactus of all forms. The toughest plants of the Southwest, cactuses have evolved to thrive in extremes. Their fleshy, sculptural forms, designed to retain water for long periods of drought, can be highlighted against the backdrop of walls or fences. Here, upright Mexican organpipe cactus (Stenocereus marginatus, zones 9 to 11) and golden barrel cactus (Echinocactus grusonii, zones 9 to 11) create a bold display in an entryway in Phoenix.
Shrubs, perennials and grasses. Native desert plants are by far the most well-adapted to Southwestern climates, but if you wish to include more diversity in your garden, turn to plants from other arid regions. The key is to look for those that thrive with little water and in quick-draining desert soils. In this garden in Santa Fe, New Mexico, the designer created a lush look with drought-tolerant plants including white-petaled coneflowers (Echinacea sp., zones 4 to 10), silvery lamb's ears (Stachys byzantina, zones 4 to 8) and ornamental grasses.
Shade trees. Create welcome pools of dappled shade in the landscape with Southwestern trees. Palo verde, chitalpa, desert willow and all kinds of mesquite are good low-water options. Pictured here, a mesquite tree (Prosopis sp., zones 8 to 11) shades the front walkway of a home in Phoenix.
Cooling blues. Using plants with foliage or flowers in shades of gray, blue, silver and purple can have a cooling effect in a hot Southwestern desert landscape. Shrubby germander (Teucrium fruticans, zones 8 to 9) is a good drought-tolerant option with gray leaves and lavender-colored blooms favored by hummingbirds. Common sotol (Dasylirion wheeleri, zones 6 to 11) also has a cooling effect as its strappy silver leaves ripple like water running over a rocky slope.
Fall color. High-elevation Southwest gardens embrace seasonal change with plants chosen to turn from green to gold and deep bronze. In this garden in Albuquerque, New Mexico, skunkbush sumac (Rhus trilobata, zones 2 to 9) puts on a stunning autumn show. A tough Western native shrub, skunkbush sumac grows to about 5 feet tall and 8 feet wide. The gray-green leaves change to brilliant gold and red in fall.
Garden Accessories
Iconic motifs. The Southwest is rich in historical symbols, from diamond-patterned Native American weavings to longhorn steer skulls and cowboy lassos. To incorporate iconic imagery of the region in your landscape, look for natural elements to display on garden gates or in front of walls. Here, a traditional string of peppers and a rustic-style bell add attractive accents to the front entrance.
Metal garden art. Metal garden sculptures, such as the prickly pear cactus and the lizard near the gate, add year-round whimsy to the landscape. Sparsely planted desert gardens provide the space for sculptures to really stand out.
EDITOR'S NOTE: This article is from Houzz. Hoang is landscape designer and was previously a garden editor for Sunset Magazine and in-house designer for Sunset's Editorial Test Garden.