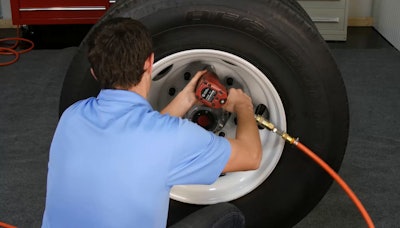 Aluminum and steel wheels are practically bullet proof and a daily glimpse for cracks and rust is probably sufficient as long as you take the steps necessary to maintain them.
"If you have good maintenance practices, the wheel should last the life of the vehicle, if not longer," says Brandon Uzarek, product design engineer at Accuride.
If you're running steel or aluminum wheels, Uzarek says, it's critical to be sure all mounts and surfaces are clean and flat.
Dave Walters, Alcoa field service manager, agrees, adding the most important part of wheel maintenance is making sure the studs, drum and mounting faces are all clean before installation ever takes place.
"Sometimes excess or foreign material can work its way into the joints and you'll lose clamping force," Uzarek says.
Uzarek recommends cleaning the studs when the wheels are mounted. On hub pilot wheels, studs need to be oiled, as does the gap between the flange.
To account for any shifting that takes places when the truck finally hits the road, Uzarek advises wheels be re-torqued between 5 and 100 miles after the initial mount and again every 10,000 miles.
"A lot of fleets do not do re-torques because it's an inconvenience," he says.
Walters says fleets can mitigate much of that inconvenience and still reap the benefits of proper torque by taking a 5 to 10 mile test drive after the wheel is initially mounted to settle the joint, then checking the torque.
"If you cleaned them and did everything properly, you shouldn't have to re-torque them again unless the wheel is removed," he says, adding this method was included in the Technology Maintenance Council (TMC) Recommended Practice (RP) 237.
Re-torquing practices can vary and Chris Putz, Maxion Wheels principal engineer for commercial vehicle wheels, says that's fine so long as it's application specific.
"The fleets know best their operations and vehicle duty cycles," he says. "We would just recommend they have some established program for checking torque."
Keeping wheels clean can also help prolong their life. A simple soap and water bath is sufficient for aluminum, while a wire brush is an effective tool in removing corrosion from steel.
"The faster we take care of any rust," Uzarek says, "the longer the wheel should last."
"If you maintain the appearance of your wheels, that prolongs the life of that wheel," adds Walters. "The hidden corrosion is what's going to get you. If you wash the truck and keep it clean, that's key to keep corrosion from working down into the hidden places."
Putz says keeping wheels clean is important to also ensure the longevity of the wheel against harsh salts and corrosives used to de-ice roads that can also eat through the wheel's finish.
Wheel makers have developed advanced propriety anti-corrosive surface treatment coatings for their wheels that won't flake, and Walters says these offer advantages over many paints.
Wheel re-finishing is an option to make worn wheels look like new, but Uzarek cautions that a coat of paint won't fix structural issues. When wheels begin to lose material, they need to be removed from service.
The process of re-finishing can also be tricky. Uzarek says paint applied too thick can cause a loss in clamping force, as can paint that has not cured properly.
Putz says each wheel should be thoroughly re-inspected after the refinishing process is complete and, Walters adds, habitual wheel refinishing can remove enough wheel material to make it unsafe to operate.
"One thing we hear a lot of is burning off the paint in an oven and we have not approved that process," he says. "Depending upon time and temperature, it could change the mechanical properties or the microstructure of the steel."
When refinishing, you also must be aware that you could be eroding the roll stamp on the wheel, the visibility of which is mandatory for its use on the highway.
"Once the roll stamp is gone, you've basically got junk," Walters says. "Once you cannot read the DOT stamp, you're done."