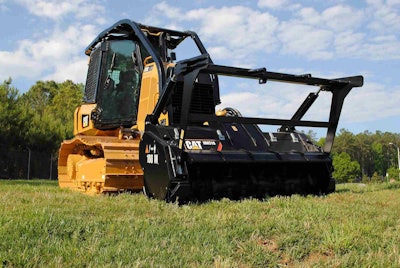 Caterpillar has introduced a new factory-built mulcher which combines a D3K2 dozer with an HM518 mulcher attachment.
Designed for small-to-medium diameter material across a range of applications in construction, road work and forestry, the D3K2 Mulcher can be equipped with either a conventional long (XL) undercarriage, or a low-ground-pressure (LGP) under carriage.
The HM518 has a 72-inch-wide drum that was designed to perfectly match the operating width of the D3K2, which is powered by an 80-horsepower Cat C4.4 ACERT engine. The mulcher can be removed in favor of a variable pitch/angle/tilt blade when needed.
The cab of the D3K2 Mulcher is pressurized and offers an air suspension seat with seat-mounted controls and gives operators 360 degrees of visibility, Cat says. Screens and "poly-carb" windows on the cab offer added protection during operation as do hydraulically adjustable push guard and hydraulically operated front hood on the mulcher.
Cat notes that the D3K2 Mulcher is sold as a complete model configuration, and says the HM518 mulcher cannot be retrofitted to standard D3K2 dozer models. "The new model does provide an added choice," Cat explains, "in combination with the Cat 299D XHP skid steer and 586S site-prep tractor."