Aside from Rockin' New Year's Eve, the Rose Parade may be one of the most iconic kickoffs to the new year.
But this year's caravan of colorful flower-adorned floats will set a new standard while also posing a unique challenge – actually moving a float that weights more than 68 tons.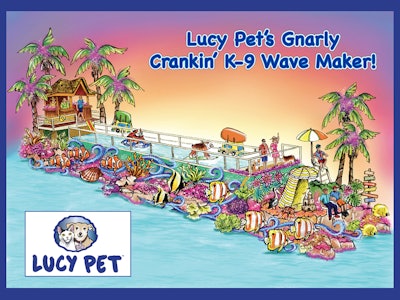 Measuring more than 125 feet long and tipping the scales at more than 137,000 pounds, the Lucy Pet Products 2017 Rose Parade float is the longest and heaviest in the parade's 128-year history. The float feature eight dogs surfing on waves generated by a one-of-a-kind mobile wave machine in a 5,000-gallon water tank.
"When we set out to break the longest and heaviest single-chassis parade float Guinness World Records title, we knew we needed a bulletproof powertrain we could count on to reliably carry it down Colorado Boulevard for the Rose Parade," says Joey Herrick, president and founder, Lucy Pet Products.
Underneath its flower-covered exterior, the record-breaking float is powered by Ford's 6.8-liter V10 gasoline engine and heavy-duty TorqShift six-speed automatic transmission from an F-650 medium-duty truck.
"As the U.S. commercial vehicle sales leader for 31 years, we've seen a lot of applications for our vehicles – but hauling the world's longest, heaviest parade float certainly stands out," says Kevin Koester, Ford medium-duty truck and Super Duty fleet marketing manager.
The float features a tiki hut, vibrant tropical fish and palm trees, and a functional lifeguard stand on deck houses. The lifeguard directs the float driver, who is blindly operating the 320 horsepower and 460 lb.-ft. of torque powertrain underneath it all.
The 128th Rose Parade starts at 11 a.m. EST on Monday in Pasadena, California. Here's a video from Lucy Pet as the Ford engine is mounted on the float chassis: