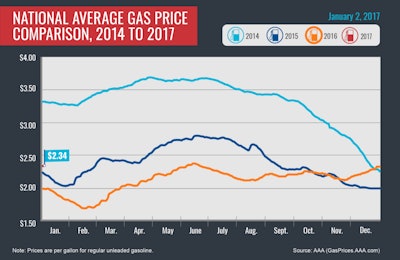 The first week of 2017 began with gasoline prices averaging $2.34 per gallon, according to AAA, with the national average moving higher for 34 of the past 35 days.
The auto owners association attributes most of the increase to the production deal reached by OPEC in the fall.
As of Monday, pump prices were up 5 cents a gallon on the week, 18 cents per gallon for the month and were 34 cents a gallon higher than this time last year.
AAA says the movement of retail gasoline prices in 2017 will continue to depend on the ability of OPEC member countries to cut production. In addition, springtime maintenance at U.S. oil refineries will prop up gasoline prices leading up to the summer driving season, AAA analysts say.
AAA's 'Quick Stats'
The nation's 10 least expensive markets: South Carolina ($2.10), Arizona ($2.12), Alabama ($2.13), Tennessee ($2.13), Mississippi ($2.14), Texas ($2.14), Arkansas ($2.15), Louisiana ($2.15), Oklahoma ($2.15) and Missouri ($2.18).
The nation's 10 most expensive markets: Hawaii ($3.01), California ($2.76), Alaska ($2.68), Washington ($2.67), District of Colombia ($2.59), Pennsylvania ($2.57), New York ($2.52), Illinois ($2.49), Oregon ($2.48) and Connecticut ($2.47).


The outlook for retail gasoline prices
AAA says U.S. gasoline production could put downward pressure on prices. Domestic production reached a record high of 10.537 million barrels for the last week in December.
Because U.S. gasoline demand normally falls in January, the association says, higher gasoline production "could have a bearish market impact on gasoline."
Here's a link to AAA, where you can always find current retail gasoline prices from throughout the country.