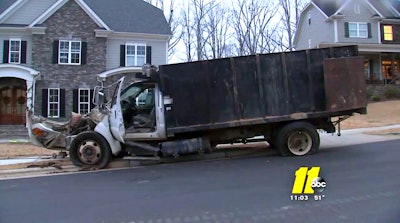 A 5-year-old boy was killed last week after a dump truck rolled away from a residential construction site in North Carolina and ran him over.
A worker on the site at the time of the incident has been charged by police in connection with the boy's death and officials say he is in the country illegally.
According to a report from WTVD ABC 11, while a crew on a residential construction site in Hillsborough, North Carolina, loaded a dump truck Monday afternoon (Dec. 26), the truck suddenly began rolling forward, heading downhill from the site before crashing into the garage of a nearby home in the Forest Ridge subdivision.
In the truck's path was a group of children playing soccer in front of the garage. The boy hit by the truck was identified as Everett Copeland, reports WNCN. ABC 13 reports that CPR was administered to the young boy following the incident before he was transferred to Duke University Hospital. He died later that day.
No one inside the home, which is also where Copeland lived, was injured.
ABC 13 reports that no one was inside the truck when it began rolling downhill. However, authorities arrested and charged Alejandro Suarez, 28, with misdemeanor death by motor vehicle. Suarez, authorities say, was the worker on the jobsite in charge of operating the truck.
"At this point, we don't believe the vehicle was properly secured," Hillsborough Police Chief Duane Hampton told ABC 13. "We will also be following up the investigation, looking at the mechanical condition of the vehicle and confirming all of the working relationships, regarding specifically which company the crew was working for."
A follow-up report from WNCN says police determined that Suarez "left the truck, which was on a hill, unattended, without turning off the engine and effectively setting the parking break."
WNCN reports that Suarez is employed by Kala Contracting Inc., a company listed under revenue suspension by the North Carolina Secretary of State. He is also an illegal immigrant, according to U.S. Immigration and Customs Enforcement. ICE issued a statement calling Suarez a "Mexican national unlawfully present in the United States," adding that he is "an ICE enforcement priority due to a prior conviction for driving under the influence in 2009."
Suarez remains in the Orange County jail on $10,000 bond.