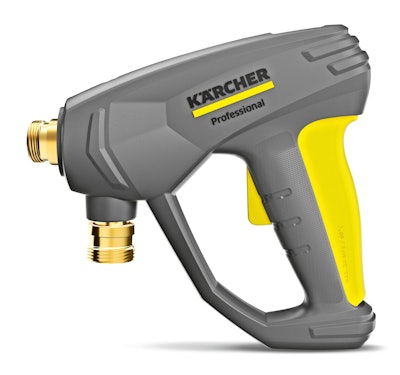 Kärcher North America is now offering the "EASY!Force" trigger gun for its line of commercial pressure washers. Kärcher says the product uses the recoil force of the water spray to hold the trigger down automatically. This eliminates sore hands after hours of use, according to the manufacturer, which cites a workplace ergonomics expert's tests of operator fatigue compared with other "trigger guns" on the market.
Kärcher says the Easy!Force design enables quick set-up, while the valve itself "consists of a ceramic ball with ceramic sealing seat that is resistant to any particles liable to cause potential damage." A mechanical safety device prevents accidental engagement, the company says.
Kärcher also offers adaptors that make its new trigger gun compatible with most pressure washers and accessories on the market.
STIHL says KombiMotor line drives workers' efficiency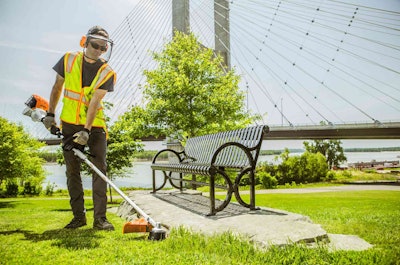 Landscape workers can have access to up to 14 tools in one, STIHL says, with the manufacturer's KombiMotor. It's now simpler and quicker to start, the company says, and can be used to cultivate, edge, prune, trim, blow and sweep.
The STIHL KombiMotor has a 710cc fuel tank and low-emission engine. STIHL's upgrade of the product includes a vertical pleated air filter for better filtration and one-touch stop.
The new KombiMotors are the KM 91 R, the KM 111 R and the KM 131 R. "The new additions to the STIHL KombiMotor line offer professionals a way to use one of three motors to power up to 14 hardworking accessories …," said Marv Mathwig, product manager at STIHL Inc.
Here's a look at some of the models' shared features:
"IntelliCarb" compensating carburetor automatically compensates for reduced air flow when air filter begins to clog to maintain desired RPM.
Solid steel drive shaft designed for professional grade durability and comes with a lifetime limited warranty.
Rubberized loop handles provide a comfortable grip.
Multifunction control handle allows easy access to all of the controls on one handle.
Semi-automatic choke lever enables simplified three-step start procedure, saving users time.
One-touch stop switch enables the user to turn off the engine with the press of a button. When the engine is off, the one-touch stop switch automatically returns the trimmer to the start position, reducing the chance of flooding the engine when restarting.
STIHL says its KombiMotor line also features easy access for maintenance.
The suggested retail price on each new model is as follows: KM 91 R, $299.95; KM 111 R, $339.95; and the KM 131 R, $369.95.