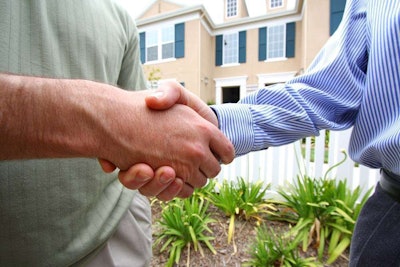 When there are multiple credible landscaping companies in your service area, not to mention the low-ballers, it can sometimes be a struggle to attract new customers.
Naturally, when you do end up with some promising leads, you don't want to lose them. One sales technique that can work quite well for landscaping jobs is emotional selling.
When you are meeting with a potential customer who is discussing their issues with their yard's appearance, try to listen for some underlying emotions you can tap into.
For example, if the client is despairing about how terrible their lawn looks and mentions how their neighbor's yard looks fantastic, they are probably searching for a sense of pride. Their house looks great, but a patchy lawn detracts from it. This is where you can step in.
During your sales presentation, you can show them before and after photos from projects in which your company restored lawns to their green glory. This visual will inspire them and though they may purchase on the emotional high, you can remind them – accurately – that investing in a nice yard improves the house's curb appeal and thus its value.
Other positive emotions to listen for in talking with prospects include safety, serenity, contentment, amusement, enthusiasm and joy.
If the client is hinting at how they are lacking one of these feelings in their current outdoor space, follow up on that by pointing to your solutions in your design proposal.
Say a customer has a large family including young children who have a flat stretch of grass to play on but never want to go outside. This is your opportunity to suggest ways to breathe life into the space.
Ask questions about the children's interests. Are they swimmers? Climbers? Explorers? Once you know more, you can design accordingly, so that the children will want to play in the backyard.
Providing a practical solution can also evoke positive emotions, of course, and when a customer sees the possibilities of having his or her needs met, both practically and emotionally, it can ease the closing of the sale.
To make sure that this emotional bond you've worked on lasts far past the sale, do what all good businesses do: Instill a sense of confidence and trust in your customers.
Don't make them wonder if you'll really be able to complete the job on time or if you'll actually install the fountain they requested. Be up front and honest about delays or changes.
Once you've completed one job well, odds are that customer will turn to you for future jobs and may ask your company to handle maintenance.
Even though financially you might not be the cheapest option, you are able to give them something more emotionally. When they trust your company and are rewarded by a landscape that exceeds their expectations, they are bound to appreciate that and spread the word as well. Word of mouth still carries weight.
And if you can persuade a happy client to review your company online, the business will stand out even further.