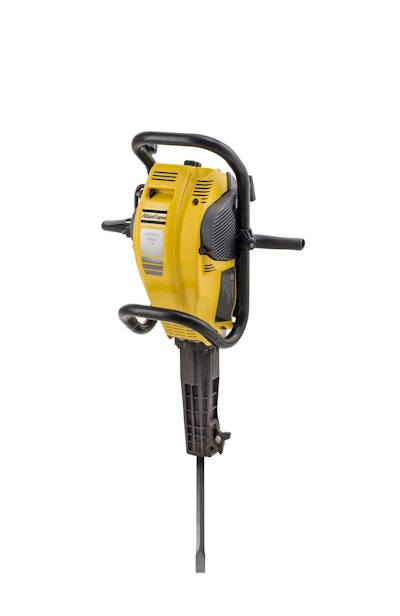 Atlas Copco introduced its PROi gas breaker with electronic fuel injection (EFI) at World of Concrete last week in Las Vegas. The company says the tool offers industry-first benefits for breaking concrete, cutting asphalt, tamping soil or driving ground rods.
The Cobra PROi provides as much as 10 percent more power than its predecessor, the PROe, at all working speeds, Atlas Copco says, while "optimal combustion" reduces fuel consumption by as much as 10 percent.
Operators can start the breaker in almost any climate and at any altitude, the company says. An integrated mechanical fuel pump employs a system that maintains constant pressure to the regulator without electricity, according to Atlas Copco, and the tool's EFI system uses just 3 psi – 40 psi less than standard EFI systems. This approach, the manufacturer says, minimizes pressure variations and voids in the fuel, ensuring smooth running.
Atlas Copco says the Cobra PROi weighs 53 pounds, can fit in a car's trunk and boasts an extraordinarily low hand-arm vibration level. Its 2-stroke, 90cc engine delivers as much as 44 lb.-ft. of breaking force – equivalent, the company says, to 793 pounds hitting the chisel every second.
Titan: TGS2 skid steer tire handles winter's worst
If you're looking for a tire for your skid steer that will help in snow removal and landscaping, Titan International Inc. has introduced the TGS2 motor grader tire concept in a bias size geared for skid steers.
This open shoulder, radial design with its deep-lug tread is engineered to keep you planted in snow, ice and mud. And the siping on the lugs gives the edges some bite, which is especially helpful in slippery conditions.
The TGS2 for skid steers is available in the standard 12-16.5 size. For motor graders, the TGS2 is available in standard 14.00R24, 17.5R25, 20.5R25 sizes, as well as an LSW 17.5R31.5 and LSW 20.5R31.5.
The LSW design has a larger rim diameter to reduce sidewall recoil and enhanced stability and traction.
Bosch says new 6.3 Ah battery sets global standard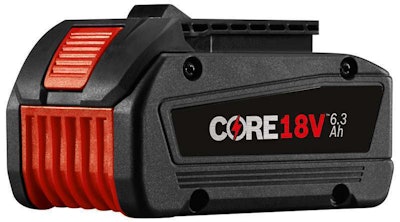 Bosch says it has answered the need for stronger, longer-lasting battery performance in high-load applications with the CORE18V Battery. The 6.3 Ah CORE18V delivers up to 20 percent longer runtime than previous-generation Bosch 6.0 Ah batteries and up to 50 percent longer than 5.0 Ah cells in extreme applications, the company says.
The CORE18V battery generates sufficient current to finish jobs other batteries can't, Bosch says, and is the most compact and lightweight high-powered battery available.
"Bosch looks at battery power from the user perspective," said Theron Sherrod, product manager, Robert Bosch Tool Corp. "What do users want? They want greater power and more runtime in a compact size, which is what CORE18V is all about."
Bosch CORE18V batteries are compatible with all 18-volt Bosch Lithium-ion tools and chargers. Bosch says it's now developing high-power tools to take full advantage of CORE battery technology.