Altoz announced it has begun shipping to dealers the outdoor power equipment industry's first tracked zero-turn mower, the TRX.
The TRX turned heads in October when it was introduced during GIE+EXPO 2016 and received a 2016 Pro Tool Innovation Award (PTIA), which recognizes best-in-class products for innovation, power and value.
Equipped with rear-mounted tracks, a torsional suspension system and patent-pending technology for commercial use on sloped, wet and untamed terrain, the TRX allows lawn care professionals, utility companies and municipalities to maintain places they normally can't effectively or safely cut with a traditional zero-turn mower.
"Watching the excitement build for the TRX starting in October, followed by the overwhelming interest we saw on Facebook, has been really gratifying," said Dennis Brazier, Altoz CEO/Founder. "Now we're hearing that dealers are selling out within days of receiving their first TRX deliveries."
The TRX tracks are specifically designed with patterns that allow for maximum traction and stability yet minimal ground disturbance when turning, resulting in significantly less ground pressure and turf tears.
Customers can choose between Altoz's exclusive Aero Deck finish cut deck or an all-terrain deck. The finish cut deck provides optional attachments, such as Altoz's mulch kit, chute shut-off, collection system or striping kit.
With its sloped back and rear-discharge design, the all-terrain deck can handle over-grown properties by being able to cut tall grass, brush and trees up to an inch in diameter. Multi-cut blades pivot when hitting an immovable object to protect the blade, spindle and engine.
Both decks are available in 61" or 66" widths; each deck is also available as an option. TRX models are available with a choice of maximum performance engines, either a Kohler Command Pro EFI with 33 horsepower, or a Vanguard EFI with 37 horsepower.
For more information on the TRX, click here.
AMSOIL adds two new synthetic lubricants
To better serve landscaping professionals, AMSOIL has recently expanded its products to offer two new synthetic lubricants: AMSOIL 20W-50 Zero-Turn Synthetic Hydrostatic Transmission Fluid and AMSOIL 10W-40 Synthetic Small-Engine Oil.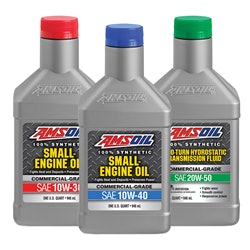 Featuring a high-zinc formulation to fight wear while preserving mower speed and responsiveness, the 20W-50 Zero-Turn Synthetic Hydrostatic Transmission Fluid is purpose-built to withstand the demands of hydrostatic transmissions to resist high-heat and shear while delivering smooth, responsive operation in zero-turn mowers, stand-on mowers and other landscaping equipment commonly used by professionals.
It can last up to two times original equipment manufacturer (OEM) recommendations helping reduce maintenance costs and downtime.
Formulated with anti-wear additives that deliver continuous severe-service protection, AMSOIL Synthetic Small-Engine Oil – formerly known as AMSOIL Formula 4-Stroke Synthetic Small-Engine Oil – has been updated with a new name, label and is now available in 10W-30 and 10W-40 viscosities.
Both viscosities feature a formulation designed to preserve equipment power while fighting oil consumption caused by high heat commonly found in these applications.
For more information on these lubricants, click here.
Outdoor power equipment manufacturer efco adds new chainsaw
The Italian outdoor power equipment manufacturer efco recently announced it has built a new and improved MT 3500 S chainsaw.
Featuring a sprocket driven oil pump with zero oil flow when the engine is idle and a sleeker design, the MT 3500 S allows for lower oil consumption and a reduced impact on the environment.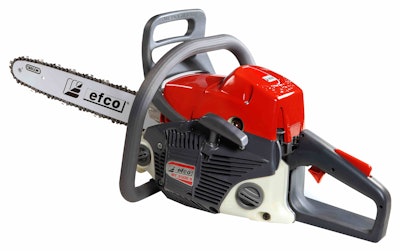 According to efco, the MT 3500 S is perfect for small to medium sized properties, and is great for trimming, light pruning and small to medium diameter firewood cutting.
The MT 3500 S uses a 38.9cc engine that delivers 2.0 horsepower. It also features an on/off switch, choke and throttle lock incorporated into one easy switch for simple operation.
Additional features include a six-point anti-vibration system for increased operator comfort, a lateral chain tensioner for easy chain adjustments, an in-board clutch for simplified maintenance and a conveniently located air purge for cold starts.
All efco products are supported with a 5-year consumer and 2-year commercial warranty.
For more information about the MT 3500 S, click here.