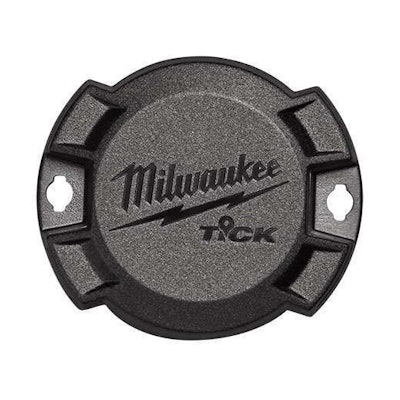 Equipment theft is common and Milwaukee Tool has introduced the TICK – a Bluetooth tool and equipment tracker – as an answer to this problem.
Designed to withstand harsh environments, the TICK can be easily attached and hidden from sight on any tools or equipment providing users an invaluable way to track their possessions with the ONE-KEY app.
"The opportunities to use this product are endless," said Steve Matson, senior product manager. "Designed for the professional trades and the inventory management challenges they face on the jobsite, the TICK is durable enough for the harshest environments, but is versatile enough to use on any valuable tools and equipment in a variety of industries."
With its low profile design, the TICK can be securely attached with rivets, glue, screws, or zip ties . It has a flat back for a snug fit to a different surfaces and its circular shape can be tucked into a number of places hidden from view, such as the underside of a ladder.
Each TICK comes laser engraved with a serial number so users can easily identify and assign multiple TICKs. According to Milwaukee Tools, once attached and hidden from view, the TICK makes tracking tools and equipment as simple as pulling out your phone.
Products with a TICK attached are paired via the ONE-KEY app. When any device with the ONE-KEY app comes within 100 feet of the TICK, tool records and locations are updated. The app only needs to be in range to begin transmitting, allowing users to pinpoint missing tools more quickly.
Users can manage all of their tools through the app's Simplified Tool and Equipment Management features. These features allow users to assign and store detailed information for all of their tools and equipment – whether it's a tool equipped with a TICK, a ONE-KEY enabled tool or any other tools and equipment.
Milwaukee states that the TICK fully embodies their promise of "Nothing but heavy duty," and is also ruggedly protected from demanding situations – giving professionals peace of mind that they'll receive updated locations of their tools and equipment, no matter what.
Its water and dust-tight closure protects the internal components from weather elements, and UV rated plastics keep the TICK from getting brittle when exposed to extended periods of direct sunlight. Also its electronics housing can withstand high vibration and impact should it be located somewhere such as underneath a generator.
TICK Product Offering
1-Pack (48-21-2000) – $29
4-Pack (48-21-2004) – $99
10-Pack (48-21-2010) – $219
50-Pack (48-10-2050) – $999
For more information about the TICK, click here.