Recognizing innovation in park management and practices, the Toro Urban Park Innovation Award winners are Parque Castillo in St. Paul and Bossen Field Park in Minneapolis.
The two areas were not only chosen for the important roles they play in bringing their communities together through recreation and arts integration, but also for their ability to demonstrate excellence in park design and programming both locally and nationally. The funds from this award will support large park renovation projects already underway.
"Parque Castillo and Bossen Field Park are excellent examples of how park leaders can design and program parks to meet the needs of today's urban communities through the arts and recreation," said Catherine Nagel, City Parks Alliance executive director. "Greater & Greener is designed to have a positive impact on the host cities by featuring local examples through sessions, tour and mobile workshops. The Toro Urban Park Innovation Award will help ensure that the communities near Parque Castillo and Bossen Field Park enjoy a lasting, tangible impact from Greater & Greener through improved local parks."
To make the area more appealing to the neighborhood, Parque Castillo was redesigned with plans to add new amenities like a festival lawn, circular walk, refurbished play area and interactive water feature. The circular lawn will serve as a canvas to local artist Craig David, and The Toro Urban Park Innovation Award will support perimeter seating around the lawn.
"The Toro Company is proud to be a part of the largest international gathering of urban park leaders to Minneapolis and St. Paul later this year,"said Rick Olson, president and CEO of Toro. "Through the establishment of this award, we recognize the importance of parks in our communities and how innovation can revolutionize the park experience and bring diverse communities together."
During the planning process for Bossen Field Park, located in a culturally diverse neighborhood within Minneapolis, community outreach was led by the Minneapolis Park and Recreation Board (MPRB). It was suggested by the MPRB that a multi-use flexible field was a priority for the community as many local needs were not being well served at Bossen Field.
The MPRB recognized that the neighborhood has no other reasonably proximate parks available while the work proceeds at Bossen Field Park and construction on a multi-use field began as the first step in a larger renovation project.
It's predicted that this field will be sodded and irrigated rather than seeded to provide a more immediate place for locals to use; this field was also supported by The Toro Urban Park Innovation Award.
The awards will be presented in conjunction with City Park Alliance and the Greater & Greener 2017 international urban parks conference. This conference will be held July 29 – August 2 in Minneapolis and St. Paul, Minnesota. The conference will convene design professionals, park leaders and urban park advocates in St. Paul and Minneapolis.
The conference will feature 80 sessions and the 100 speakers will focus on four tracks: Youth Development, Planning Healthy Systems, City Park Essentials and the Creative Culture of Parks. Toro will also host an International Forum on Aug. 2 that will focus on global trends and approaches that cities worldwide are taking to leverage the power or green space and parks.
Heads Up Landscape Contractors earns ethics award
Recently it was announced that Heads Up Landscape Contractors was awarded the 2017 New Mexico Ethics in Business Jack and Donna Rust Award for Excellence in Ethical Business practice by a for-profit business.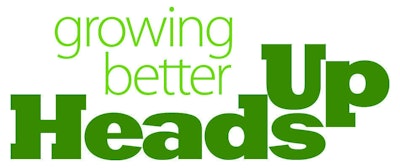 This award will be presented on April 26 at the Hotel Albuquerque and will be presented by the Samaritan Counseling Center of Albuquerque. The award honors organizations and people that promote ethical conduct and practice that conduct in all aspects of life.
Ethics students from the University of New Mexico interviewed, evaluated and reported on each of the 28 nominees this year. The selection committee is made up of volunteer community and business leaders; they reviewed the reports, conducted their own research and submitted the names of the final recipients.
"Everyone involved with the Ethics in Business process was thoroughly impressed by your exceptional ethical accomplishments and the way in which ethics permeates your culture," said Sarah Lee, Samaritan president and CEO. "Ethical communities are healthy communities and it is in this respect, as well as others, that (Heads Up) directly strengthen(s) our state."
The four categories of Samaritan's New Mexico Ethics in Business Awards are for-profit business, non-profit business, individual leadership and young leadership. These awards have been presented each year since 2000.
"We are grateful for the recognition from Samaritan and the community," said Eddie Padilla, executive vice president of Heads Up. "Since our beginning as a residential sprinkler repair company until today, more than 40 years later, everyone at Heads Up has worked hard to earn the trust of the Albuquerque and Santa Fe communities we serve. We do it by adhering to our five core values and 31 fundamentals – guidelines that keep us on track and continuously growing better."