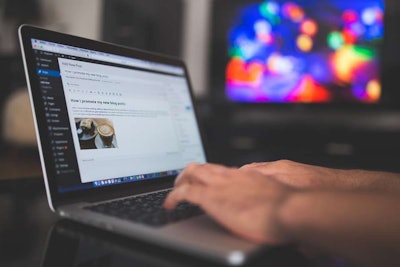 If you want your landscaping company to be found online, one of the simplest methods is to create a business blog.
Creating content related to your business will increase the likelihood of more people visiting your site and it is reported small businesses with blogs generate 126 percent more leads than those that those that do not.
The more content you have the better your search engine ranking will become, but it is important that you focus on creating posts that are useful to your readers. Here are some of the main factors to consider before committing to a blog.
Content
Since your blog is designed to serve current and potential customers, take the time to ask them what they would like to read. This will save you from wasting your time writing articles that can be a hit or miss.
Tailor your stories to answer commonly asked questions that relate to your services. Many times those who are searching online are in the awareness or consideration stage of the buyer's journey and they are trying to gather as much information as possible.
Say for instance a consumer is interested in adding a fire feature, but they aren't really sure what all their options are. If your company installs fire features, there is a story idea for you right there. You can go into the pros and cons of common fire features and their fuel types and you have answered their question. At the end of the article all you have to do is make a gentle call to action that allows the reader to know they can call or email your company if they do end up deciding to add that fire pit.
You don't want to waste people's time by creating meaningless articles that talk a big game in the headline and then not address the topic. Don't use your blog to promote your business as the best landscaping company known to man; that's what ads are for.
When it comes to word count don't kill yourself just trying to meet a quota, but anywhere from 500 to 1,000 words is a good amount. More in-depth articles tend to receive more links and shares so don't fret about a lengthy post if the information is quality.
The final and probably most important component of content is to practice good grammar. Nothing will cause a reader to lose faith in your credibility faster than foolish typos or just blatant mistakes. If English is not your forte, consider hiring a freelance writer or delegating the job to someone on staff who is more comfortable writing.
Frequency
The frequency you can post on the blog will vary based on your free time or your budget for your freelancer and how many topics you know you'd like to cover. If you aren't sure how much time you'll be able to set aside for the blog it's better to post on a monthly basis rather than posting daily and then running out of steam a few weeks in.
The frequency really isn't the important thing, but rather the consistency. If you plan to update the blog on a weekly or bi-weekly basis, stick to it as some people will quickly assume your business is no longer operational if they go to a site and see the last post was from 2007.
If you know you only have time to blog infrequently, try to remove the timestamp feature from the posts so there is nothing that makes it look outdated. Writing stories about information that is always going to be useful is a good way to make sure visitors continue to check it out months from now.
You definitely want to take advantage of covering seasonal topics around the time many people will be searching for them. If Christmas lights are one of your services, you know that it will probably be wise to share some advice on holiday lighting in the winter months for those researching it. After reading your tips, some might just find it easier to hire your company to handle the task.
Share it
After putting all that hard work into developing meaningful content and posting it on a consistent basis, the last thing you want is for the blog post to become buried in obscurity because you didn't bother to share it anywhere.
If you've created a search engine friendly headline and included certain keywords, some of your traffic will come organically, but you don't want to leave it all to hoping someone will stumble across it on the fifth page of a Google search.
This is why you need to obviously share it through your social media accounts, and in your company newsletter, if you have one. Sharing on social media not only makes it more likely to appear before your desired audience, but it is also easier for those who follow you to share the content as well. A retweet from a well-known figure with a hefty sum of followers can work wonders.
If you still aren't convinced that a blog is worth your time, here are some quick stats about blogging:
90 percent of consumers find customer content useful.
81 percent of U.S. online consumers trust information and advice from blogs.
61 percent of U.S. online consumers have made a purchase based on the recommendations from a blog.
60 percent of consumers feel positively toward a company after reading their blog.