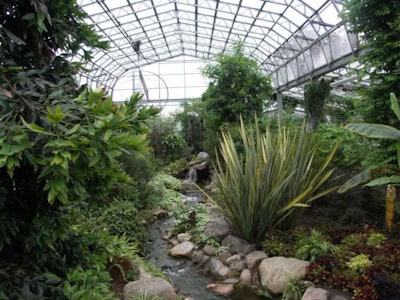 When working on a garden project, your customer's natural tendency may be to ask your recommendation on which flowers should go in their yard, but the prettiest plants aren't always flowers. When recommending items for planting, keep in mind these five ornamental foliages that will break up the monotony of a flowers-only garden and also give your customers that abundance of green they crave.
Quadricolor century plant (Agave lophantha 'Quadricolor')
The quadricolor century plants are edged with yellow and have pale green midstripes. When grown in bright light, the yellow marginal stripe, highlighted with dark reddish teeth, flushes red and gives the leaf four distinct colors.These plants can tolerate dry conditions but will grow much faster with summer irrigation. The stalks can grow 12 to 18 inches tall by 2 feet wide.
USDA Hardiness Zone: 9-10
Full sun to light shade
________________________________________________________
Coleus (Coleus hybridus)
Coleus is prized for its colorful foliage, which can come in shades of green, pink, red, yellow and maroon. These varieties can range from one to several feet high and can be used in landscape beds, on patios, in containers and in hanging baskets. They are heat-tolerant, durable and have very few disease and insect problems. Sunlight can affect coloration, and typically those grown in partial shade yield the most vibrant colors.
USDA Hardiness Zone: 9-11
Full sun, part shade
________________________________________________________
Ornamental cabbage and kale (Brassica oleracea)
Ornamental cabbage and kale can grow 12 to 18 inches tall, and can transform a cool-season garden with a bright pop of color from the flowering kale. Showcasing bold shades of white and purple, these leaves can be eaten but are mostly used for garnish on dishes.
USDA Hardiness Zone: 2-11
Full sun
________________________________________________________
Foxtail ferns (Asparagus densiflorus 'Meyersii')
These evergreen, drought-resistant plants need little care and can stay bright and green year-round. Foxtail ferns don't typically require trimming and pruning, and a mature fern will grow to 6 to 8 feet across. New plants generally stay about 3 or 4 feet across, and it's easy to divide these at the base root system to create new plants.
USDA Hardiness Zone: 9-11
Light shade
________________________________________________________
Elephant ears (Colocasia esculenta)
Elephant ears have bold foliage and can add a tropical air to your customer's garden with their huge, heart-shaped leaves, which can come in black, green, yellow, purple and other mixes of colors. The leaves can grow to be more than 3 feet long and can grow higher than 6 feet tall. Elephant ears grow from tubers, and some clump while others spread on runners across the ground.
USDA Hardiness Zone: 7-11
Full sun, partial shade