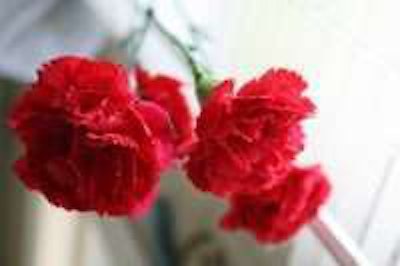 There are many survivalists out there who will tell you that when out and about in nature, many plants, trees, and flowers are edible.
However, just because a flower may be deemed edible doesn't necessarily mean it will end up tasting good. Before picking up just any flower and taking a bite of it, take a look at a few edible and also palate-pleasing options you can recommend to your clients.
Always remember to thoroughly research a flower before telling customers it's edible, as many flowers have inedible lookalikes that may cause harm.
Carnations (Dianthus caryophyllus)
Carnations harbor a surprisingly sweet petal and can be used as cake decorations, made into candy, or steeped in wine. To use the petals in desserts without tasting the bitterness of the base, be sure to carefully cut the petals off the base before baking or cooking with it.
________________________________________________________
Chrysanthemum (Chrysanthemum coronarium)
Chrysanthemums have a tangy and slightly bitter taste and can come in a variety of colors, such as red, yellow, orange and white. Before using on salads, remember to blanch the petals first. The leaves can also be used to flavor vinegar. Be sure to carefully cut away the petals from the base to ensure only the sweetness can be tasted.
________________________________________________________
Day lilies (Hemerocallis species)
Day lilies have a slightly sweet taste as well as a mild vegetable flavor. They have a chewy consistency, and it is believed that each different color petal has its own flavor. The petals are not only tasty but also look beautiful when dressing up a salad or dessert. Remind clients that if they do choose to partake in eating day lilies, they do act as a diuretic or laxative, so they should be eaten in moderation. Other species of lilies contain alkaloids and are not edible, so exercise caution.
________________________________________________________
Hibiscus (Hibiscus rosa-sinensis)
Hibiscus petals have an overall cranberry-like flavor with a few hints of citrus mixed in. The petals are slightly acidic and can be used sparingly in salads or as garnish. The petals can also be dried and brewed in teas.
________________________________________________________
Primrose (Primula vulgaris)
These flowers offer bright colors with a sweet but sort of bland taste. The flower buds can be pickled, the flower can be cooked like most vegetables, petals can be added to salads and as decorations for desserts and they can be fermented to make wine.
________________________________________________________
Sunflower (Helianthus annus)
These flowers are best eaten when they are in the bud stage. At this stage, the flavor of the buds is similar to that of an artichoke. When the flower opens, the bittersweet petals can be used much like the chrysanthemums. Before the buds open, they can also be steamed like artichokes.
________________________________________________________
Angelica (Angelica archangelica)
Flowers can range from pale lavender-blue to deep rose colors, depending on the variety, and the flavor is similar to licorice. These flowers are valued for their stems and seeds in the culinary world and can be candied and used in liqueurs. The young leaves and shoots can also be used in green salads. Angelica also has a flavor similar to celery and pairs well with fish dishes. In other parts of the world, the stems are eaten raw or with butter like many other vegetables, and the young leaves can be made into tea as well.