ICL Specialty Fertilizers has developed its new Gemini Granular pre-emergent herbicide. The company says it is unlike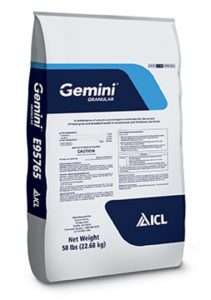 any other pre-emergent on the market today.
"Gemini's new granular formulation features the active ingredients Prodiamine and Isoxaben," said Kurt Brace, ornamental horticulture marketing manager for ICL Specialty Fertilizers. "This combination and R-50 Optimizer makes any herbicide program more efficient and flexible by delivering reliable control with less herbicide."
ICL Specialty Fertilizers says that the R-50 Optimizer in Gemini Granular moves more of the herbicide's active ingredients off the carrier and spreads them farther. The company says that this provides a wider and more effective protective barrier than traditional herbicides.
"Professionals can apply Gemini Granular with R-50 Optimizer up to three times per year before reaching the maximum limits," Brace said. "And, because they can put down more applications each growing season, they're able to extend the length of their weed control programs. That means they're not only able to be more effective, but also more efficient."
Controlling more than 120 grassy and broadleaf weeds for up to four months, according to ICL Specialty Fertilizers, this Gemini Granular with R-50 Optimizer pre-emergent herbicide has a low risk of phytotoxicity with more than 450 tolerant ornamental species.