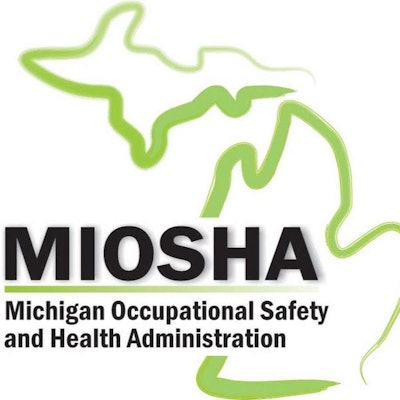 The Michigan Department of Licensing and Regulatory Affairs has ordered Sunset Tree Service & Landscaping in Bay County to suspend its business activities once more.
Twelve citations were issued, totaling $222,000 in penalties, and the Michigan Occupational Safety and Health Administration (MIOSHA) director Shelly Edgerton announced that the company was served a Cease Operations Order because of the hazards present on the job site.
According to MLive Michigan, there were six total violations reported, such as having no cover on the access panel for the Bandit Chipper; employees not being trained on tree trimming operations and safeguards; inadequate guard/distance for feeding rolls on the Bandit Chipper; not utilizing control devices while employees were working in and close to the road; having operator safety bars tied back with rope and wire, which keeps the device on the Bandit Chipper from being effective; and having an unguarded shaft with hex flange projections on the Bandit Chipper.
Since Jan. 11 and up until March 15, MIOSHA has investigated Sunset Tree Service & Landscaping; they found that six of the citations given were for failing to abate and the remaining six were for serious violations that appeared to be willful. A Cease Operations Order was issued against the company last May, but it was lifted after the violations were abated.
"Between 2011 and 2016, 14 inspections were conducted at the company, resulting in 48 citations with total initial penalties of $150,000," the agency told MLive Michigan. "It has also been cited nine times for failure-to-abate."
There are six employees at Sunset Tree Service & Landscaping. It is reported that when removing and processing trees, the business requires extensive use of personal protective equipment, various powered equipment and hand tools.
"Sunset's gross negligence of MIOSHA regulations continues to jeopardize the safety of its most valuable asset – its employees," Edgerton told MLive Michigan. "While MIOSHA strives to work collaboratively with the employer community, such a pattern of non-compliance requires that we take the necessary enforcement actions."
Michigan landscaper found dead in golf course pond
On Monday afternoon a man was found floating in the pond near the first hole at the Oxford Hills Golf Course in Oakland County Michigan.
The victim was 66 years old and was from Oxford Township. It was reported that he was mowing the greens on a riding lawn mower shortly before his death.
"A riding lawn mower found near the victim had gone into the lake," sheriff's officials said in a statement to MLive Michigan. "The manager and another employee pulled the subject from the lake and discovered that he was an employee of the golf course who had been mowing that green."
The death is under investigation currently, but no foul play is suspected.
"The golf course manager indicated that the subject suffered from diabetes and had complained for the past several weeks that he had not been feeling well," sheriff's officials said to MLive Michigan.
Landscaper employee charged with equipment theft
After making off with $3,000 worth of landscaping equipment and selling them to his boss, Peter J. Smith, 33, was charged with larceny over $1,500 after turning himself in. He was later released after posting bond.
A landscaper reported his tools stolen on Sunday after finding his T-grass cutter, used to trim a putting green, and stump grinder were no longer in a tool shed at a residence on Ocean View Highway in Watch Hill.
Both items belonged to the landscaper, not the homeowner, and were retailed at $1,500 each. The Westerly Police Department was notified on Monday that the landscaper had located one of the stolen items after contacting his friends in the industry. The man's friend, another local landscaper, reported that Smith was an employee of his and had sold the stolen stump grinder to him for $220 two days earlier.
The item was identified and returned to the owner. Smith was fired and reported to the police. The grass cutter was also returned to the owner.