YARDMAX announced that its new 2-in-1 Chipper Shredder will be available this summer.
This item features stamped steel construction, a Briggs & Stratton Professional Series engine as standard and a 10:1 reduction ratio, which the company says can turn 10 bags of yard waste into one bag of mulch.
This product is priced starting at $549, and YARDMAX says it will also offer an exclusive look at the 2-in-1 Chipper Shredder at the 2017 National Hardware Show in Las Vegas, Nevada, May 9-11, 2017.
"The power and efficiency provided by our new 2-in-1 Chipper Shredder is unreal," said Shad Shafer, YARDMAX vice president. "As we continue to expand our product line, we look forward to introducing more innovative, dynamic products like this to advance the industry and help operators get the job done right, at the right price."
Featuring a versatile design and stamped steel construction, YARDMAX says that the 2-in-1 Chipper Shredder is engineered for productivity and delivers direct drive engine power to ensure constant self-feeding chipping with no lag time. The chipper shredder also features two chipping knives, two J-shredder hammers and two regular hammers, and has a 208cc displacement engine.
DeWalt launches mower/vehicle charger
DeWalt has introduced the 40V MAX Mower/Vehicle Charger (DCB412), which is compatible with all 40V MAX outdoor equipment batteries.
The company says it provides convenient mobile charging for landscapers and includes a truck power input, mower battery connection and a mower mount. The company also says that to make the battery as secure as possible, this charger can be attached to a mower in a variety of orientations.
The DeWalt 40V MAX batteries can be charged from both the vehicle's 12V power outlet or by tapping directly into the mower's battery, and the 40V MAX Mower/Vehicle Charger includes an automatic shut-off to prevent excessive discharge of the vehicle's or mower's battery. Additionally, it features an LED indicator that can diagnose the charge status of the battery and alert the user to a power line problem. This indicator also informs the user of the status of a power line, if it's too hot or cold to use or if the battery needs to be replaced.
DeWalt says that landscaping crews have the ability to work through the whole day with this 40V MAX Mower/Vehicle Charger and the existing 6-Pack Charging Station. DeWalt says that without charging during the day, six batteries can power a day's worth of work, which equates to up to 90 residential properties per week. The mower/vehicle charger can charge a 7.5Ah battery within four hours.
These chargers are set for availability in summer 2017 and will be sold where DeWalt products are sold for $79 MSRP.
Husqvarna offers Fleet Program discount for NHLA members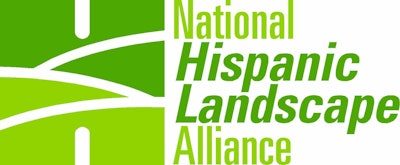 Husqvarna's 20 percent Fleet Program discount has been extended to members of the National Hispanic Landscape Alliance (NHLA). This new offering is part of a larger Husqvarna initiative to support the landscape industry's growth, as well as engage industry Hispanics through the Husqvarna Fleet Program incentive.
"The NHLA is committed to helping its members achieve greater professionalism and business success," said Ralph Egües, executive director of the NHLA. "In the landscape industry, that requires working smarter and with the maximum efficiency facilitated through the use of the highest quality and best designed equipment, like the products manufactured by Husqvarna. Our contractor members appreciate the opportunity to save on equipment purchases from our supporting member brands, and we are delighted to be announcing this new opportunity for them to save 20 percent on the purchase of professional equipment from Husqvarna."
This is an exclusive benefit for current NHLA members with a membership number which applies to individual unit purchases of qualifying models through participating Husqvarna dealers in the USA. The discount provides NHLA members with a 20 percent discount on professional Husqvarna landscaping products.