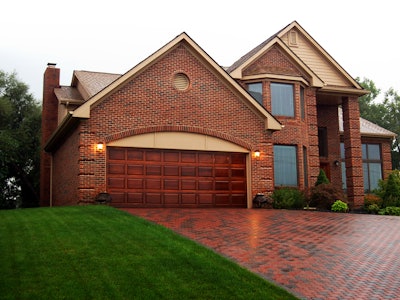 When searching for a house, taking in the landscape is not always the first thing on a perspective buyer's mind. It may seem trivial to focus more on the outside of the house than the inside, but certain issues can cause homes to seem like a money pit and discourage the sale.
If a customer is getting ready to sell their house, you can offer to look for any red flags buyers may be concerned about. Ask questions about the landscape, if this is a new client, such as what is currently planted there and how long it's been there. Also, be on the lookout for a few other items that may cause problems in the future.
Steps and paver patios
Watch for things like paver patios and steps when checking out clients' homes. Paver patios may add an attractive and welcoming look to the backyard, but they do need to be maintained.
"A lot of times paver steps are not built correctly and they start falling apart or start moving," Duane Draughon, co-founder and designer at VizX Design Studios, LLC in Chicago, told Zing! By QuickenLoans."Sometimes homeowners will try to have a simple patch fix to sell the property, but never fix the real issue."
Steps can be a costly repair, so help your customer's house be buyer friendly by ensuring the hardscaping is stable.
Limbs over the roof, exposed tree roots
While they may not be an unusual sight, exposed tree roots need to be paid attention to. Depending on how close they are to the foundation of the house, they could ultimately cause structural damage. Limbs hanging over the house can cause damage to the shingles, and can also serve as an easy way for pests such as squirrels and opossums to make their way into the house.
Suggest removing problem trees or limbs to help put house hunters' minds at ease.
Irrigation systems
There are many benefits to having an irrigation system in place in a yard, but there can also be a few disadvantages to note. If the system has not been installed properly or has not been maintained, it could end up costing thousands of dollars to replace or repair. It can also lead to water leaks, which could cost a lot of money in wasted water as well.
If you didn't install the irrigation system, encourage clients to to get the system inspected by either your company, if you offer irrigation maintenance as a service, or an irrigation professional before the sale of the home is complete.
Landscaping against the house
Sometimes problems on a house can be hidden or disguised by adding some landscaping over them, so be sure to look closely at anything that may be planted or sitting next to the house.
"Some prospective buyers love discovering bushes, shrubs and flowerbeds in the backyard, but be aware that any foliage that comes in direct contact with the house can pose a risk to your siding," Brad Woods, owner of American Turf & Tree Care, told Zing! By QuickenLoans.
Wood also suggests looking at the soil grade around the house for possible pooling issues.
"If the ground slopes downwards towards the home, water probably pools against the foundation when it rains or when the lawn is watered."
If your client has not reached out to you about these drainage problems, point them out and share your rates for the service. They may not always take you up on your offer, but highlighting and fixing some exterior issues may help the customer sell the house faster.