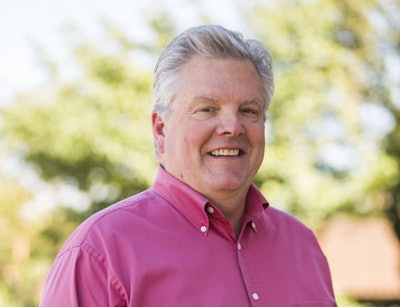 Hardscape North America (HNA) has announced several of its conference session topics for its Oct. 2017 event.
This year it will focus on some of the industry's most pressing issues, including the Occupational Safety and Health Administration's (OSHA) recent silica exposure regulation change.
David Murray, a first-time speaker at HNA, will lead the session on this topic. Murray is a safety and health consultant for the State of Nevada. He will cover OSHA's new regulation, which reduces the allowable exposure to silica dust on job sites and increases fines if not adhered.
He will explain the harmful effects of exposure to silica dust when cutting hardscaping materials such as concrete, clay, stone and porcelain. The session will also cover how to:
Measure dust inhalation on job sites
Create a plan and safety equipment selection for minimizing exposure
Designate a competent inspector and staff training
Provide employee medical surveillance
Comply with OSHA recordkeeping requirements
The conference session "OSHA's New Crystalline Silica Regulation" is scheduled for Friday, Oct. 20 at 3 p.m.
Returning speaker Todd Bairstow will expand upon his previous contractor briefing on "Lead Generation Myths" with a full conference session titled "Emerging Online Lead Generation Trends for Residential Hardscape Businesses."
Bairstow is a contractor and online marketing expert and will use an array of data to show how homeowners behave online and how residential hardscape businesses can take advantage of these traits to boost sales. He is 12-year veteran of the "Pay Per Lead" business model and supports a performance-based business model.
This session will be held at HNA on Thursday, Oct. 19 at 8 a.m.
Additional information about HNA 2017 will be release mid-May along with the opening of registration. For more information, click here.
Gachina Landscape Management lends helping hand to neighboring business
Gachina Landscape Management, based in Menlo Park, California, partnered with IFMA Silicon Valley and The GROW Organization to renovate the building of neighboring business, JobTrain.
JobTrain helps individuals in Silicon Valley reclaim their lives from poverty and prepares them for successful careers. They evaluate and train people in the proper attitude and job skills for high-demand fields.
Gachina has been working with JobTrain on projects for 25 plus years. It renovated both sides of JobTrain's front entrance and entry pathway from the sidewalk to the facility.
Volunteers from both the crew and management levels – 23 in total – contributed their time and removed all the existing plant material, since it was over 10 years old and desperately needed renovation. It was replaced with drought-tolerant plants.
Also the landscaping company adjusted the irrigation system and top-dressed with mulch. The labor, materials – plants, mulch and irrigation parts – and equipment were all valued at a total over $16,000 and it was all donated.
IFMA Silicon Valley handled the minor indoor improvements, including minor construction, electrical work, flooring and painting.
Aquascape named one of the healthiest companies for second year
Aquascape Inc. has been recognized for being one of the healthiest companies in America, which was sponsored by Interactive health, a national leader for its personal wellness solutions.
The company is one of 156 businesses that were recognized this year for helping employees make changes to improve their health. This is the second year Aquascape has won.
In order to win, businesses must have participation rates over 70 percent and a low-risk health score or its total staff. Aquascape's employees receive a thorough health evaluation and are given a personalized course of action that will help them either improve or maintain their health. The company also provides numerous exercise opportunities for its staff including an on-site fitness center and access to personal training services.
"This is the 10th year we're honoring the Healthiest Companies in America and it continues to inspire us how successful the winning companies are in building and sustaining employee engagement and inspiring positive health outcomes," said Cathy Kenworthy, CEO and interactive health president.
For a full list of the healthiest companies in America, click here.