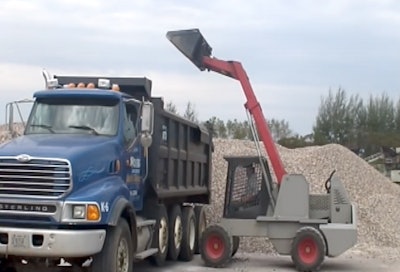 The design of construction machines doesn't change much through the decades, but the Pro-Handler, if nothing else, takes the standard skid steer and stretches its capabilities.
Hand-built as a proof of concept by Extend Manufacturing, the Pro-Handler offers an extendable rear section that also lengthens the wheelbase, an extendable boom (similar to JCB's new Teleskid) and four-wheel drive hydraulics to power the front and rear wheels.
Check out a video of the Pro-Handler in action.
With front and rear extendibility, the machine can serve as a rough terrain handler offering a 14-foot telehandler height, an aerial work platform that goes to 19 feet as well as doing all the things a normal skid steer does with attachments.
One of the big benefits of the extendable rear section and lengthened wheelbase is that it enables the Pro-Handler to better climb hills, says Marc Dack, vice president. It also reduces the tipping tendency that traditional skid steers suffer from because of their short wheelbase.
The Pro-Handler can be fitted with the usual attachments: post-hole diggers, mowers, snow blowers and standard buckets. Dack says the design would be particularly helpful for homebuilders who need a single machine that can move stockpiles of gravel and dirt like a skid steer, but with the reach to place drywall in second story windows or place joists and shingle bundles up to roof height. Fully extended the boom height reaches 164 inches at the hinge pin.
Extend Manufacturing is working on two pre-production prototypes. They currently have an 85-horsepower engine, but Dack says production models will probably use engines under 75 horsepower to avoid diesel emissions restrictions.
High density plastic pads keep the sliding portions of the machine running smooth, similar to the anti-friction pads on a telehandler boom. The rear portions slides on a telescoping tube with a hydraulic cylinder on it. The boom works the same but with the cylinders inside.
The company is not publishing the tipping load currently, but Dack says they hope to bring it in at around 11,000 pounds and a 5,000-pound working load. As for speed: "We believe we can run it up to 16 mph and still be stable," Dack says.
Extend is looking for crowdfunding sources at this stage of the machine's production. "We want the small investor to be able to invest and get a part in it." For more information check out the company's Fundable page here.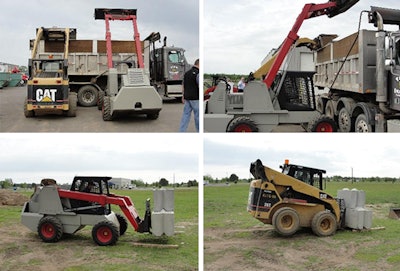 EDITOR'S NOTE: Tom Jackson is the executive editor of Equipment World magazine, another Randall-Reilly publication.