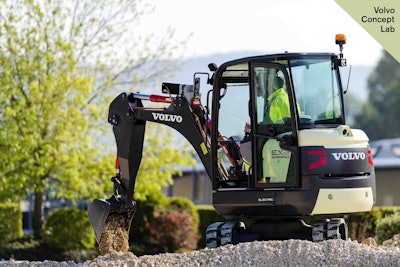 Volvo Construction Equipment has unveiled what the company believes to be the first fully electric compact excavator prototype.
Eight months after unveiling the LX1 hybrid electric loader and the HX1 load carrier prototypes as part of the company's vision for the autonomous and electrified quarries of the future, Volvo has taken the wraps off of its latest prototype, the EX2 compact excavator.
The EX2 is powered 100 percent by electricity. Two lithium ion batteries delivering 38KWh replace a combustion engine and provide eight hours of power to the machine in what Volvo calls "an intense application, such as digging compact ground."
The machine is also without a hydraulics system. Instead, an electric architecture incorporating electromechanical linear actuators power the boom and implements, and "help to optimize the transmission chain."
"The prototype machine delivers the same power and force as its conventional counterpart, as well as faster speeds in combined movements," says Ahcène Nedjimi, Volvo CE's electrics and electronics systems lead engineer and the EX2 project leader. "And all of this has been achieved without compromising on machine performance, ensuring customer needs would be fulfilled."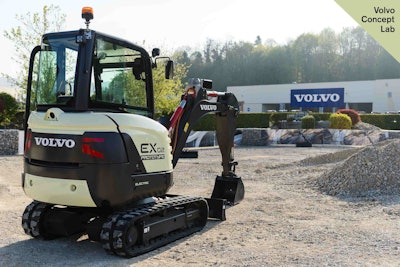 In addition to delivering a zero-emissions machine, Volvo says the removal of a combustion engine and hydraulics also mean the EX2 is 10 times more efficient, has 10 times lower noise levels and reduces the total cost of ownership compared to conventional counterparts.
At this time, Volvo says the EX2 is purely a proof of concept and the company has no plans to manufacture and put the machine on the market. The company says that it will continue to use the EX2 for research projects, such as durability testing.
"This represents the future of our industry," says Nedjimi. "The EX2 is a revolutionary machine. With its zero emissions and ten times lower noise levels, it could easily be used in densely populated areas without disturbing people—even at night. Ten times higher machine efficiency and maintenance-free systems mean that operating costs and total cost of ownership would be significantly reduced."
Though the EX2 was unveiled at an event focusing on infrastructure and transport in cities of the future, Volvo continues to research how to outfit quarries completely with electric heavy equipment.
The company's Electric Site research, which includes the autonomous and electric HX1 load carrier and field testing of the LX1 hybrid wheel loader, continues through 2018 and seeks to create an electrified quarry where not only are carbon emissions reduced by up to 95 percent, but also the total cost of quarry ownership can possibly be reduced by 25 percent.
EDITOR'S NOTE: Wayne Grayson is the online managing editor of Equipment World, another Randall-Reilly publication.