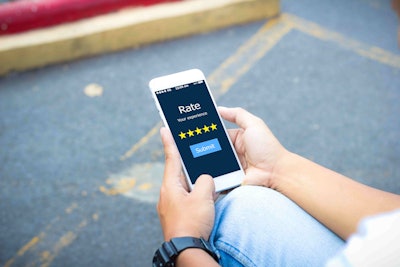 Most landscaping companies receive a vast amount of their business from word-of-mouth and referrals, but often potential customers turn to the Internet to find a trustworthy business to work with.
This comes with its own set of positives and negatives. It means that you need to have an up-to-date website that they can find with a quick Google search and it also means you might need to have a presence on a contractor referral website.
While some referral websites are well-known and fairly reliable, like Angie's List, others can be home to many disreputable contractors.
The website, Thumbtack, seems to be having some serious issues lately with unlicensed contractors bidding on jobs on the site.
Carrie Paulik, a Bay Area woman, found out the hard way when she took the website's claim of providing a professional for every project at face value. She hired a landscaper to do her front yard and paid him nearly $8,000 up front, but he abandoned the job before it was done.
She hired another one from Thumbtack to finish the work but it would cost her another $9,000. Both of the landscape contractors were unlicensed despite the state of California requiring a license.
The first landscaper had once been licensed, about 10 years ago, and had it pulled for the same behavior Paulik experienced: taking the money and running.
When Paulik complained to the website it took down the first landscaper, but it was clear it hasn't been vetting its contractors. In fact, the Contractors State License Board has been using the site to set up stings due to the abundance of unlicensed contractors picking up jobs on the site.
"We know that they're getting jobs because of these websites," Rick Lopes, chief of public affairs with the board, told NBC Bay Area. "So we're out there looking for them, too, to try and put them out of business."
Although the website has an A+ rating on the Better Business Bureau, a quick look at the reviews and complaints will reveal 78 out of the 112 listed were negative. The BBB conducted a review of the company in February to determine Thumbtack's definition of "Pro" and the "Thumbtack Guarantee."
According to the BBB, Thumbtack's Pros are able to upload evidence of their licensing and insurance to their profile, but it doesn't specify if it is required to be on the site.
When choosing what referral website you should pursue, you have to look at it from both a business standpoint and customer's viewpoint. Referral sites known for negative interactions could hurt your reputation just by being on a site that's associated with scams instead of quality service.
Also you need to examine how it is making money. Thumbtack only charges contractors when they're ready to bid on a potential job, but this is no guarantee you could get the job, becoming a quick money pit. HomeAdvisor has a membership fee of $28.99 per month not including the cost of leads, which vary based on the type of request and the location.
You also want to make sure you are on the sites that your ideal customer is most likely to frequent. If you are looking for homeowners whose tastes run high-end, Houzz is a good place to have profile due to its idea sharing layout with photos of enviable projects.
A major key to put customers at ease is to provide your license number on your own site and on any other site your company is listed. Making it as easy as possible for homeowners to do their homework will increase their trust in you when they realize you aren't trying to hide anything.
Click here to see some of the basics you need to have on your company's website.