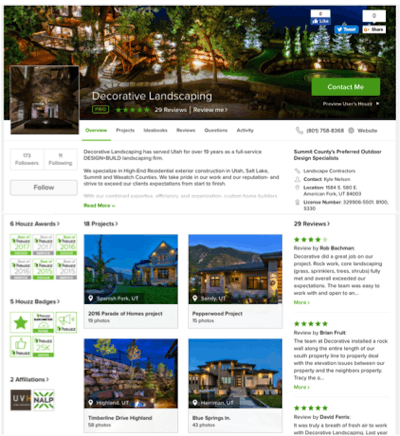 The National Association of Landscape Professionals (NALP) has partnered with Houzz; the group says that this partnership will connect Houzz's community of more than 40 million monthly users with landscape professionals committed to enhancing their indoor and outdoor spaces.
This partnership will also include national visibility for landscape professionals and discounts including the following:
Discounts through the Houzz Trade Program: NALP members can participate in the newly launched Houzz Trade Program, which provides special pricing on numerous products, a customer service team and a rewards program.
Support from Houzz to create profile sites: NALP members can receive special assistance in setting up their Houzz profile. A Houzz specialist will be available to provide personalized support and take the guess work out of how to gain visibility on this platform.
NALP recognition on Houzz: NALP members can add the NALP badge to their Houzz profile.
National awards recognition: NALP will host the People's Choice Awards on Houzz several times throughout the year. NALP will feature some of the NALP Awards of Excellence winning projects, and the Houzz community and the NALP network will vote on their favorites.
"We are thrilled to partner with Houzz, which is an incredibly useful site for millions of consumers looking to improve their indoor and outdoor living spaces," said Sabeena Hickman, CAE, NALP CEO. "We are also excited by the national recognition we can bring to our member's award winning projects and by the opportunity to help members increase their visibility and promote their professionalism."
Giraldo receives Entrepreneur of the Year 2017 Award
Recently, the director and president of Clean Scapes, Ivan Giraldo, was recognized by the National Hispanic Landscape Alliance (NHLA) for receiving the EY Entrepreneur of the Year 2017 Award in the category of service in Central Texas.
NHLA says this award recognizes exceptional achievements in building and creating a business that is market-building and has transformed the face of the industry, contributed to the vibrancy of communities and created jobs.
Clean Scapes, LP was founded in 2005 and is an award-winning, full commercial landscape company based in Austin, Texas with branches in San Antonio and Dallas. Serving as the premier commercial landscaper in Central Texas, the company says they specialize in the construction and maintenance of outdoor environments.
"It is an honor to receive such a prestigious award as it attests to the importance of landscaping as an industry and it is proof of what landscape professionals can achieve," said Giraldo. "I believe that this award reflects the collective effort of our company and our employees, and we look forward to continue encouraging the advancement of our workforce through similar achievements."
NHLA says that Giraldo's leadership has permitted him to advance the industry and has also allowed him to increasingly provide opportunities for his workers to grow within the company.
NHLA notes that Giraldo's dedication towards his employees is reflected in his commitment towards the NHLA. NHLA aims to facilitate the upward mobility of Hispanic Americans as entrepreneurs and professionals in the landscape industry.
"The NHLA has been fortunate to have Ivan as a member and director, as he has actively helped the organization grow," said Ralph Egües, NHLA executive director. "In addition to running a fast-growing company, he serves in a prison ministry where he teaches entrepreneurial skills and encourages prisoners to become productive members of society upon their release. He truly believes in the American Dream and I know of no one more committed to helping others achieve greater personal and professional success."
Giraldo is now eligible for consideration for the Entrepreneur of the Year 2017 national program.
John Deere names finalists in "Small Machines. Big Impact." contest
John Deere has selected three finalists in its "Small Machines. Big Impact." contest. These finalists have the chance to win a new G-Series skid steer or compact track loader (CTL) with a WorkSite Pro attachment.
The finalists are Daryl Bridenbaugh, Building Houses and Hope in Putnam County, Ohio; Eric Moores, Teaching Tomorrow's Builders in Woodbine, Iowa; and Tom Noble, Fielding Student Success in Oklahoma City, Oklahoma.
"It is inspiring to hear from people around the country making a difference in their communities and wanting to do even more using John Deere G-Series machines," said Graham Hinch, division manager, John Deere Commercial Worksite Products. "We look forward to hearing from the public as they help choose our winner in the voting process."
The public is invited to help choose which of the finalists' community projects will become a reality with the power of a G-Series machine from June 15 to July 5. Voters can view the finalist videos and vote here.
Based on community impact, alignment with one of the John Deere Corporate Citizenship priorities and the value a John Deere skid steer or compact track loader would add to the project, the three finalists were selected by John Deere.
After the public voting period, the winner will be announced on July 10 as part of the 2017 John Deere Classic. The two runners-up will win a yearlong lease on a skid steer or CTL from John Deere Financial.