Ed Vaccaro has recently released his invention The Hydro Pet. This device is an outdoor water bowl for any pets and animals that spend most of their time during the day outside.
The idea for this product came to Vaccaro after hearing that his neighbor's dog had died of dehydration while staying outside during the day.
The bowl can be set up in just a few steps, according to Vaccaro, and features a patented micro-jets and waterfall system. The bowl also refreshes and cleans itself at whatever length and interval pet owners choose. There are three ways to install it, and installation typically takes a few minutes.
The bowl hooks up to the homeowner's existing sprinkler head, outside water spigot with a timer or drip line hose.
The bowl also has the following features:
Non-electric making it safe for people and pets
Automatically cleans and refreshes, which prevents the buildup of harmful algae, pollution, insect larvae and biofilm
The bowl also waters nearby plants, trees and shrubs after each refill
Perfect for pets of all kinds, including dogs, cats, chickens, pigs and more
Sturdy and weather-resistant
BPA-free and made in the United States
Natural water conservation agent said to improve health and look of turfgrasses
With the recent droughts and extreme high temperatures, cool season turfgrasses such as Kentucky bluegrass, perennial ryegrass and fine leaf fescue have turned brown and gone dormant.
Because of these climate conditions, O'Fallon, Illinois-based Brookside Agra developed a proprietary natural water conservation agent called H2OExcel. The company says this agent has been scientifically proven by a university research study to improve turfgrass appearance and health when drought conditions and heat are high, using 30-50 percent less water.
The company says H2OExcel has also proved to increase root mass, strengthen turf to defend against weeds, lower maintenance costs, reduce the use of fertilizers, discourage harmful microorganisms and defend against dehydration of the soil and plant.
"Water will always take the path of least resistance and simply run-off. This common occurrence leads to the over-watering and fertilization of plants, crops and yards because water cannot reach the root system," said Tony Arro, Brookside Agra director of sales – specialty products. "The power of H2OExcel's long-term use is that it creates a soil profile that allows oxygen and water to naturally penetrate the surface, thus allowing fertilizers and nutrients a more efficient path to the root zone."
According to the company, H2OExcel is a 100 percent biodegradable, proprietary blend of desert plant extracts, humic acid-containing biologicals and other all-natural non-plant derived nutrient enhancers.
H2OExcel can change the polarity of water and soil to increase biological activity, defend against dehydration of both the soil and plants by keeping water available deeper within the soil profile and interact with soil capillarity pressure, the company says. H2OExcel can also help increase available nutrients and balance the amount of water within the root zone of growing plants by supercharging biological activity, according to Brookside Agra.
Brookside Agra also notes that researchers from Purdue University proved the effectiveness of H2OExcel in maintaining healthy turf through an independent research study. The study was conducted by Dr. Cale A. Bigelow, associate professor of agronomy-turfgrass science from late May 2013 to early August 2013.
Brookside Agra said the conclusion of the research was the turf treated with H2OExcel and the leading competitor's product displayed significantly less wilt and healthier visual/turf quality compared to untreated control turf. The company adds that the H2OExcel results used 86 percent less product than the leading chemical-based competitor to achieve virtually the same outcome for these studies.
"I started using H2OExcel with the downturn in the economy and demands from golfers were high to continue to provide excellent golf course conditions," said Mike Daugherty, former golf course superintendent at Sunset Hills Country Club in Edwardsville, Illinois. "So, we were looking for ways to save money anywhere possible. The product helped me in water usage, labor savings and getting more bang for our buck on our fertilizer applications."
The company says that H2OExcel can be blended with pesticides, fertilizers and herbicides, is safe to use on tee boxes, golf course fairways, crops, greens, landscaping, lawns, vegetable gardens, trees and other vegetation.
Brookside Agra says that the ingredients in H2OExcel are on the Generally Recognized as Safe (GRAS) list, which is approved by both the FDA and AAFCO.
Underhill introduces next generation 2WIRE Decoder Module
Underhill International has recently introduced its 2WIRE Decoder Module. This module is fully compatible with Hunter Industries' ICC2 commercial controller, which the company says expands its capabilities to two-wire operation.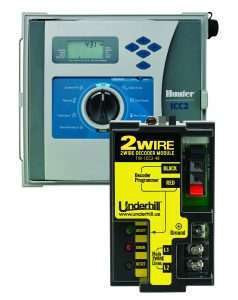 Snapping directly into the controller module slot, the 2WIRE converts an ICC2 to two-wire operation for hybrid multi-wire/two-wire system expansion or new irrigation installations. The 2WIRE Decoders can convert the 32-station ICC2 to a 48-station two-wire system, and they work with all ICC2 models, including metal, pedestal and plastic cabinets.
The company says that, typically, the two-wire irrigation is more cost effective than the multi-wire systems. According to the company, this is because it requires only one pair of two wires from the controller to multiple valves/decoders in the field, which they say will save time, materials and labor.
Grounding is not required along the two-wire path with Underhill's Decoder Modules, and standard irrigation wire can be used. Each valve/field decoder has a unique address that identifies it to the controller in the two-wire systems. Each valve is told when to open and close once the signal is addressed and 24 VAC powers is sent to the same pair of two wires.