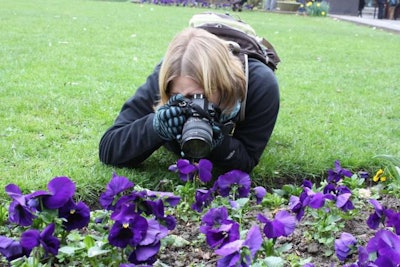 When it comes to showing off the hard work you and your crews have done in photographs, it's very tempting to take on that task yourself.
With advances in cellular technology and the popularity of point and shoot cameras, it's easy to think that you have more than enough photographic talent to take your own high quality photos.
Even though you feel qualified to take project photos on your own, it may not be the best idea when it comes to selling your business via pictures. Professional photographers, many times, have high prices for their services, but when it comes down to it, good publicity is often worth the price of professional grade photos.
It's a similar concept to having homeowners believe they have the talent and equipment to do the jobs you and your trained crew members do, even though they have no formal training. When in doubt, leave the professional-grade jobs to the professionals.
If you do decide to hire a professional photographer, take a look at a few important tips to keep in mind when picking out the perfect person for your projects.
Check qualifications
Before hiring a photographer to take on your project, be sure to meet with them and discuss what makes them qualified to shoot for you.
Talk about their training, the equipment they use and ask to see their portfolio, especially if they have previous work in the green industry. Carefully look over their photos to see if their vision lines up with yours, and be sure to find photographers who are on board with doing a variety of shots.
There's a big difference between someone who's shot portraits and someone who specializes in landscape photography, so take that into consideration when looking over resumes and portfolios.
Trust the photographer
There are very few people who enjoy being micromanaged, and photographers are definitely better left alone.
Once you find a photographer you trust, it's important to establish trust with them so that you are free to continue your work while they handle photographing.
If it helps you both out in the beginning to go to project sites together, just to get a better feel for each other, that's perfectly acceptable. But once you've seen their process and their work firsthand, let them do their job.
Many photographers will also take your opinions and suggestions into consideration, so if you or your crew members have ideas for creative photo ideas, let your photographer know. You never know what idea they will be able to make into an amazing picture.
Also consider having before and after shots done to ensure customers are able to tell a significant difference in what was there before and what your company can do.
What to include?
Along with having the rights to your project photos, which may cost extra depending on who you work with, discuss the editing process with your photographer. More often than not, editing costs are factored in to the overall price of a photo session, but be sure to bring that up when meeting with your photographer.
If your company does not own the rights to the photos, you could ultimately end up having to pay for each time you decide to use one of the photos. Be careful with the photo rights once you do have them, though. Be wary of where you use them and who you let have access to them, otherwise they could end up somewhere they don't need to be.
Payment
It's difficult to calculate an absolute number when dealing with professional photographers, because a lot of different factors can add to the cost. Location can also alter the pricing of photographers, so remember that when shopping around.
Some photographers charge by the hour, some by the day and some by the project, but typical landscape companies have reported that photography services can run anywhere between $500-$2,000, depending on these factors.
Is it worth the money?
This question is one that professional photographers hear on an almost daily basis, and the short answer is: Yes.
Pictures truly are worth 1,000 words, and having the right photographer working on your site can boost your company's appeal. Along with vamping up your website, these photos can be used on all social media sites and even on posters and more.
As landscapers, you are in the image business. You work tirelessly to make yards beautiful, and having photos that reflect that hard work is priceless.
In the visual media-based world we live in, having high quality photos can help push your business farther than you ever thought possible. People may scroll right by a social media post with just text, but they stop, gawk at and click on beautifully taken photos.