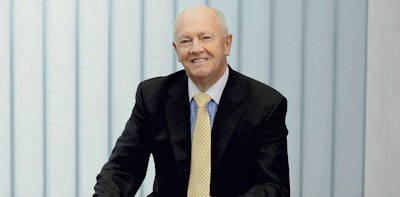 Fred Whyte, Stihl Inc.'s former president, passed away on July 7, 2017, at the age of 70 after battling an aggressive form of cancer.
"We, and the larger Stihl family, are very saddened by the news of Fred's passing," said Bjoem Fischer, president of Stihl Inc. "He will be remembered for his extraordinary leadership, passion and personal connections he had with both his customers and his employees."
Whyte started his career at Stihl in 1971 at the same company where his father had worked. Beginning as a regional manager for Stihl American, he worked his way up through the ranks and at age 34 he led the expansion and operations in Canada.
When Whyte returned to the United States in 1992, he became the president of Stihl Inc. and helped the company grow from a moderately-known brand to the No. 1 selling brand of gasoline-powered handheld outdoor power equipment in America, according to consumer research.
After working for the company for 44 years, including 23 as its president, Whyte retired in 2015 and was named sole director and chairman of the Board of Directors for Stihl in 2016.
In his retirement Whyte said, "I often say history is a great business teacher. And after working for more than four decades in this industry, I can confirm that substance wins out over style, every time."
Aside from his work with Stihl, Whyte served as chairman of the board of directors for the Outdoor Power Equipment Institute (OPEI) and president of the Portable Power Equipment Manufacturers Association (PPEMA).
"Fred was a leader in the truest sense of the word, a friend and mentor to me," said Kris Kiser, president and CEO of OPEI. "I routinely sought Fred's guidance and direction. He sought solutions and fundamentally understood compromise in the furtherance of consensus. This is a genuine skill and key in operating a successful trade association of competitors. We will miss him."
The Virginia Manufactures Association (VMA) recognized Whyte with the Frank Armstrong III Service Award in 2015 for his contributions to the Virginia manufacturing sector and was also named an honorary member of the Equipment Dealers Association (EDA).
In 2016, the Virginia Senate and House of Delegates honored Whyte with a joint resolution outlining his tenure with Stihl. In the community, Whyte was a member of Old Dominion University's Board of Visitors and also served on the Children's Hospital of the King's Daughters Children's Health Foundation Board of Directors.
In honor of Whyte, OPEI will make a donation to the Virginia Beach Society for the Prevention of Cruelty to Animals (SPCA), which was an organization that was close to his heart.
"He was tough, smart, intuitive and just plain fun to be around," Kiser said. "He had a terrific sense of humor and infectious laugh. He was a solid, decent, caring man."
Aside from being a dog lover, Whyte was an avid sports fan, outdoor enthusiast and also played the bagpipes. He is survived by his wife Karen, their two children, Jean and John and their twin granddaughters Klarise and Isla.