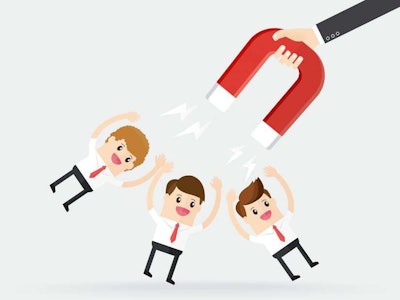 It's no secret that finding dedicated and qualified workers for the landscape industry is no easy task.
Sometimes you are able to find workers well worth their salt, but they are only around temporarily. When the summer months come to a close and seasonal workers begin talking about leaving, what can you as a business owner do to try and keep the available ones for the long term?
We've compiled a few suggestions that can hopefully help sweeten the pot for these temporary workers and potentially get them interested in staying on for good.
Clearly explain the job expectations
Before workers are ever hired, they should be told exactly what they are in for. When a person comes in to inquire or interview for a job, be upfront and honest with them.
Give them a rundown of what a typical workday consists of, and the struggles they may face when dealing with customers and the public, and don't shy away from talking about wages. When employers are honest and forthcoming about the benefits as well as the issues employees will encounter, it helps establish an environment of trust.
If an employee feels that a company will not only value them but also trust them, they are more willing to stay long-term.
Employee orientation
Once employees are hired, gather the new hires together for an orientation. This can be kind of a recap of the initial interview process where you tell them about the company, what the job expectations are, and more.
This is where your human resources department can take time to talk to new hires about paperwork, paid time off, holidays, and more, and it will give new employees the chance to meet current employees. By taking the time to explain these elements from the beginning, your new employees are able to feel like they belong sooner.
To keep it from being a dreaded event for employees who already know the information, consider offering free breakfast, and encourage current employees to come meet the new guys.
Pair them with a like-minded mentor
Once you've decided where your new hires are going to be placed in the company, pair them up with a mentor in that same department. This gives incoming workers the chance to ask as many questions as they need without having to wander around without a clue of who to talk to.
If your company has the flexibility to allow new hires to have a choice in which department they work in, talk to them in depth about their future career goals. If they express an interest in a particular area of the landscape industry and you offer those services, try giving them a chance in that department.
Give them a clear idea of the future
If you find yourself in the situation of having fantastic employees who only planned on sticking around for the summer, take time before they leave to show them the career ladder that's in front of them with the landscaping industry.
So many people are under the assumption that working with a landscaping company means "just mowing grass," but you know better than anyone that that is incorrect.
Working with your company for even just a summer should show employees what this industry entails, but explaining and showing them the career potential they can have will go a long way.
Show employees that with certifications, certain degrees, and a certain number of years' experience they can move up into this or that area, this or that job title, and make this amount of money over time.
Giving them realistic expectations and numbers will show them that landscaping is not just a summer job; it's a well-paying career path. Once they have these solid figures in their head, it may make them more inclined to take a permanent position with your company once their summer job has come to an end.