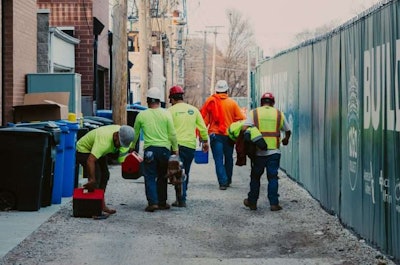 In July, we discussed the Department of Homeland Security's authorization for 15,000 additional H-2B worker visas to be included in the 2017 cap. Landscape company owners say while they are thankful for the change, the help is too little, too late.
"I can only speak as landscaper, but our season starts in the spring," Bob Grover, president of Pacific Landscape Management, told Oregon Business. "That law was passed in May. It takes about a month to get visas granted and get the people here. It would be the middle of August before someone could logically get those visas. I'm not sure at this point those visas would have done me any good."
The annual cap of 66,000 was reached on March 13 this year, and in May Congress gave the Secretary of Homeland Security authority to raise the cap if there was an economic need.
To obtain one of these additional worker visas, petitioners must show that their business is facing irreversible damage if they cannot hire H-2B workers during the fiscal year of 2017.
While the cap may prove beneficial for other industries, many landscapers have been left high and dry now that their busiest time of the year is coming to a close. Going forward, many company owners are hoping to see more consistency when it comes to H-2B.
At the recent Legislative Days on the Hill event, the National Association of Landscape Professionals (NALP) pointed out two myths surrounding the H-2B program, such as it is a form of immigration and that it takes jobs from Americans.
"There were about 400 of us in Washington who spoke with our legislators about several issues," Grover told Oregon Business. "The No. 1 priority was to encourage Congress to continue to support the H-2B visa program and to reauthorize the returning worker exemption that had been operating for about 10 years and did not make it for 2017. We're hoping the returning worker exemption gets made into permanent law or gets put into 2018."
According to statistics provided by NALP, each H-2B visa supports 4.64 American jobs, and when the seasonal jobs are filled by H-2B workers, the full-time supervisory and support roles are then open for Americans who want them.
As for the topic of immigration, NALP says that once the seasonal H-2B workers have completed their time on the job, they return home. H-2B workers are able to work up to 10 months before returning home, and the workers are legally able to work in the United States, according to NALP.
"It's bittersweet," Grover told Oregon Business. "I'll be interested to see if those 15,000 are taken and if opponents say, 'Well we granted you visas and you didn't use them.' We're hoping it's good news now that that law is passed. Now that they've done that, they might do it sooner in the year."