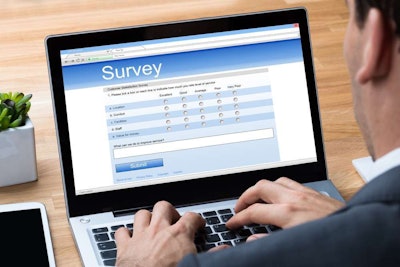 When it comes to pleasing customers and finding new ways to grow your business, one surefire way to step in the right direction is to harness the power of surveys.
Surveys give customers the chance to honestly, and sometimes anonymously, give your company feedback on customer service, jobs completed, satisfaction of services and more, all without leaving the comfort of their homes.
When it comes to requesting reviews, it can sometimes be a 50/50 chance that customers will take the time to fill one out. There are a few methods your company can use, depending on your clientele, to ensure that a wider audience is reached, and taking advantage of more than one could end up helping you in the long run.
Formats
Contrary to traditional opinions, there is more than one way to conduct a survey. While the tried and true method of mailed out surveys may get your company responses, adapting to the ever-changing technological world can really push you ahead in the race.
The format in which you issue surveys does majorly depend on your client demographics. If you find that you have a larger majority of middle-aged and older clients, mailing out surveys or leaving hard copies with them after a job is completed could be a successful practice.
For companies that have a larger majority of young adult clients, adapting to the technological world would most likely be a safer bet. There are many online survey programs, both free and buyable options, that your company can take advantage of, or you can set up one on your company website that allows customers to access it after a service has been rendered.
Some companies have surveys present on their websites 24/7, which could prove to be both good and bad. For customers who honestly want to leave reviews, it gives them an open format to click, comment and submit, but for those who just want to be internet "trolls," it can lead to negative company reviews from people who were never even customers.
One popular survey site is SurveyMonkey, which offers both a free standard option or a buyable pro version.
What to ask
There's a fine line between asking too much and not enough when it comes to surveys, so take time to discuss as a group what questions are important and which ones will give you the most valuable information.
Keep in mind that customers tend to respond better to specific questions, as opposed to open blanks that just say, "Tell us your thoughts." When there aren't specific questions for them to answer, nine times out of ten customers won't bother to put anything at all. Consider keeping all questions multiple choice to ensure that the experience is both simple and interactive for customers.
A good rule of thumb is to keep the surveys under 10 questions so customers do not grow bored or become annoyed with pages and pages of questions.
A good way to start off a survey is to offer a standard contact information form for your customers. Start with their name, email address, phone number and information like that to establish who they are and what services were performed. Some customers may wish to remain anonymous with their opinions, so be sure to make this an optional portion of the survey.
A few examples of survey questions are the following:
How long have you been customers with us?
How convenient was it for you to get in touch with us?
How would you rate your overall experience with us?
How would you rate our employees on friendliness and customer service?
How would you rate our employees on landscaping/lawn care skills?
Compared to other providers, how would you rate our prices?
How likely are you to refer us to others?
Are there any services that we do not currently provide that you would like to see offered?
What can we do to improve our service to you?
Would you like to be contacted by someone to discuss the results of your survey?
After the surveys
Once the task of issuing the surveys is complete, the next thing you as a company can do is follow up.
If customers are taking the time to openly and honestly answer your questions, they deserve your time and attention to make sure they understand their opinions are valued and appreciated.
Even something as simple as a follow-up email or phone call can let customers know you care about their experience, and it can help establish better, long-term relationships with them.
If along the way you find that there is a negative review, consider tackling it as a team. Meet as a group and discuss the comments, what could have been done to keep the problem from occurring and what can be done to rectify the situation. Once a plan is established, reach out to the customer in their preferred manner of contact, let them know that their complaint has been heard and assure them that your team is in the process of fixing it.
If you find that it's difficult to get customer interaction with these surveys, consider offering an incentive for those who do complete it. Whether it's a discount on their next service or something similar, adding a bit of a reward to the process will encourage customers to fill out their surveys completely.