Now that the time has come for autumn bulb planting, the question your customers will be asking is, "What should I plant?"
To help better answer this inquiry, we've outlined a few fall-planted bulb suggestions for each area of the country that customers are sure to love.
Midwest
Surprise lilies (Lycoris squamigera)
These bulbs are best divided and planted midsummer as they go dormant. They will have simple leaves, which are not present when the flowers first emerge from the crown. By spring, the leaves will sprout and grow, and they will die back during June. Flowers will start to appear in late July or early August. It will usually take about four to five days for the flowers to fully bloom, which is where they get their name "surprise."
Dwarf early iris (Iris reticulata)
These irises can reach up to 6 inches, and is quite a sight once it blooms. Many cultivars can have intense blue flowers, and they grow best in full sun and well-drained soil. They are also excellent for a rockery. They boast violet-blue or purple flowers with yellow markings, and they typically bloom in early spring. They thrive in slightly alkaline, average or medium moisture soil, and they need full sun to partial shade.
________________________________________________________
Mountain
Valerie Finnis grape hyacinths (Muscari armeniacum 'Valerie Finnis')
These are easily grown in medium, average moisture, well-drained soils, and they thrive in full sun to partial shade. Flowers will begin emerging in early spring, and the ground around them should remain moist during the spring growing season. Reduce watering after the foliage begins to die back. Plants will remain dormant from late spring to autumn when the leaves begin to appear again.
Daffodil (Narcissus spp.)
Bursting onto the scene, daffodils typically bloom in spring and come in bright oranges, whites and yellows with a trumpet-shape central corona and six petals. Bulbs should be planted in fall; large bulbs should be planted about 6 or 8 inches deep, medium bulbs 3 to 6 inches and small bulbs 2 to 3 inches. They thrive in full to partial sun.
________________________________________________________
Northeast
Alpine rosy bells (Allium oreophilum)
These flowers bear loose, open, bell-like blooms that can be reddish-pink in appearance. They can grow to be 8 inches tall, and they can spread rapidly to form larger, showy clumps. They require full sun and well-drained soil.
Saffron crocus (Crocus sativus)
If planted promptly in September, this autumn-flowering perennial will bloom a few weeks later and provide vivid color for a garden. These boast striking crimson threads in the center and can be dried and used for a seasoning and coloring agent in foods. They prefer well-drained soil, and it's best to avoid heavy clay soils. Place in sunny areas, especially during the flowering stage.
________________________________________________________
Northwest
Glory-of-the-snow (Chionodoxa forbesii)
Only growing to be about 4-6 inches tall, these little guys have strappy leaves and starry blue flowers. They create a beautiful carpet underneath other plants in the area. These are one of the earliest spring flowering bulbs, and they produce two to three narrow, basal leaves and an upright flower stalk. It naturalizes well after it has been established, and it will return every year. It thrives in full sun to partial shade, and it prefers well-drained soils.
Yellow avalanche lily (Erythronium grandiflorum)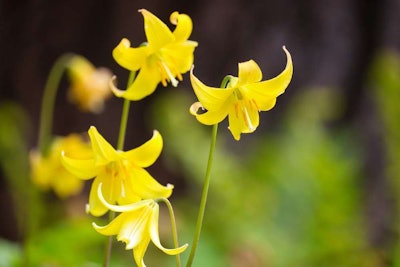 They will bring a pop of sunshine into the garden, and they grow to be about a foot wide and high. They will produce broad, speckled leaves with bright yellow nodding flowers. They prefer partial shading. They are best grown in moist, acidic soils, and they prefer partial to full shade. If they are planted as seeds, it can take up to four or five years for them to produce flowers.
________________________________________________________
Southeast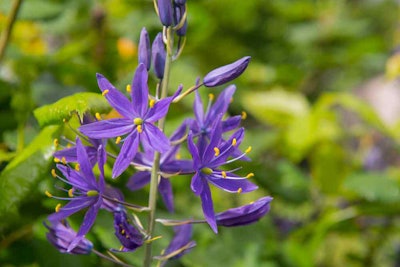 Camas lily (Camassia leichtlinii)
These are beautiful native spring-flowering bulbs that feature blue star-shaped flowers on spiked stems that can reach 3 to 4 feet tall. These should be planted in fertile, acidic soil in full sun to partial shade. They are also deer-resistant and can grow at the base of black walnut trees.
Spanish bluebell (Hyacinthoides hispanica)
These can be distinguished from common bluebells by their upright stems. They grow best in sandy well-drained soil, and they prefer full sun to partial shade. They will go dormant by early summer, and overall they are fairly low maintenance.
________________________________________________________
Southwest
Sea squill (Urginea maritima)
These large bulbs are hard to miss, and they are often used in desert rock gardens where the top of the bulb is left exposed and above ground. Given time, the strong roots will pull downward. It's a winter grower, and when winter arrives, large 12-18-inch green leaves will emerge and persist until early summer.
Butterfly iris (Dietes iridioides)
These plants are late-winter, early spring bulbs that flower each year. This plant is summer-dormant, and it needs well-drained soil. They emerge and begin flowering in September, and they will continue through heavy frosts. They have 2-inch tall branched flower scapes and 1-inch light lavender-blue blooms.