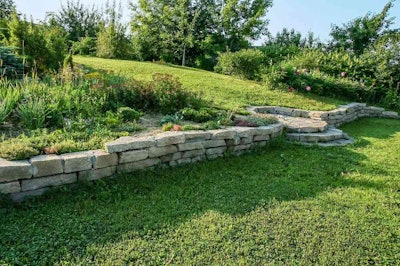 Soil erosion might not occur as frequently as other landscaping issues, but it is a problem to keep your eye on.
Erosion is the displacement of soil from one place to another, and it can happen on large or small properties. Stormwater systems can become blocked when soil from your customer's yard runs into the street, and on top of it being an environmental problem, it's also unsightly to look at.
By taking a few simple, preventative steps, you can help keep your customer's yard beautiful and environmentally friendly during even the heaviest of downpours.
Plants, grasses, and mulch
One of the best ways to prevent soil erosion is to keep the soil covered year-round. Bare soil is more vulnerable to erosion caused by wind and rain, so finding appropriate covering methods will help preserve the landscape's look and health.
Take stock of your customer's yard before deciding on a plan of action for directing runoff and water. For customers who don't have many, or any, steep slopes present, simply adding in shrubs, grasses and mulches can help collect snowmelt or rainwater.
Native grasses can help the soil gain more stability, as they will produce long roots that can tie the topsoil and subsoil together. Some species of vegetative cover, like clover, have shallow roots that won't sufficiently stabilize the surface of the soil, especially on slopes.
Woody shrubs serve as excellent soil mulch, and flowers and plants can be very effective in preventing erosion and adding beautiful focal points to the landscape.
For customers who want an active, healthy, and thriving garden in their landscape, incorporating mulch on the surface of the soil around the plants adds in a multitude of benefits.
Mulch helps regulate soil temperatures, can help prevent erosion in sensitive areas, adds organic matter and it can increase moisture retention. There are many different types of mulch to use based on the area you service and the soil chemistry of your customer's yard.
Adding in swathes, native species or buffer strips can also help reduce erosion and sedimentation, and as an added bonus, using plants that can attract pollinators can increase biodiversity.
For areas where prairie grasses thrive, consider utilizing their deep, strong roots and their thick and rough exterior. These types of grasses can also increase soil microbial activity, which in turn can help create a healthier lawn.
Using terracing and retaining walls
For customers with lawns full of steep slopes, consider adding small retaining walls or terraces. These features help prevent the loss of soil resources and erosion, and they also can add a bit of depth and dimension to an otherwise bland landscape.
Terracing is a slope control method that features a staircase pattern. Buffer strips of prairie grasses can create an attractive terrace, or you can opt for using brick or stone to create a structure.
Utilizing terracing gives you the option of creating a pattern of several feet of lawn grass rimmed with either a vegetative buffer, retaining wall, or brick/stone structures.
Retaining walls are used to help landowners overcome sloped areas and often have visual interest as well as a functional purpose. Retaining walls can be used to increase the amount of usable land in a yard, and they can even provide environmental benefits such as protecting areas from saturation and soil erosion reduction.
There are a few options when installing a retaining wall, so carefully take stock of your customer's yard before choosing one.
Gravity walls: These hold the earth by the weight of the wall's material. They can be formal pavers or even a stack of large rocks, but they can fall easily and should be used for short slopes of 3 feet or less.
Anchored walls: These are the strongest type and can be combined with other techniques. An anchor is wrapped around the wall, and a base is placed deeper into the hill, which provides stabilization.
Piling walls: These use long piles, or poles, that go deep into the soil and above it. Pilings can be made of metal or treated lumber, and they have a good capacity to hold the soil back.
Cantilever walls: These are similar to piling walls however, they get added strength from a sort of "arm" that extends back into the hill. This can increase its capacity to stabilize pressure.
For more information on installing a retaining wall, click here. For terracing design ideas, click here.
Managing rainfall and excess water
Rainwater running off the rooftop can greatly impact soil erosion on your customer's property, but there are several methods to manage this water. Before suggesting ideas, check with your local and state regulations.
One idea is to try rain collection barrels, or for areas that don't allow this practice, consider French drains or rain gardens.
French drains have become more and more popular over the years because they are functional and can be easily concealed. A French drain can be covered with turf or mulch after it's been installed to keep the landscape looking beautiful.
For a full list of French drain benefits, click here.
For customers who may not necessarily want to have a French drain installed, consider talking to them about creating a rain garden. While it might not be as effective as a French drain, it can still act as a good source of drainage while still adding the garden aspect to the landscape. If your customer has workable soil, then creating a rain garden shouldn't be an issue. By directing excess water and runoff into swales or rain gardens, it can not only add a bit of beauty to the garden, but it can also help the environment by keeping harmful substances from running into stormwater systems.
According to the Penn State College of Agriculture Sciences, there are three zones for rain gardens: wet zone, mesic (middle) zone, and transition zone. Different plants will thrive in each zone, so carefully research before adding any plants to the garden.
For more information on how to create a rain garden, click here.