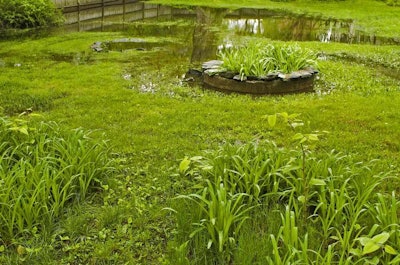 After all of the hard work you and your crews do to help your customers get their dream yards, one of the worst things that can happen is for their landscape to be ruined by unforeseen storms and flooding.
During times of heavy storms, it's no secret that rainwater can begin to pool and collect all around a landscape, and neighboring yards with no drainage options installed might be contributing to that problem.
If your client lives in a low-lying area, their landscape could become the resting ground for gallons of runoff and rain water at the end of a storm.
While you and your customers can't control what the neighbors do in their landscapes to reroute the water, there are a few preventative steps you can take when designing your customer's yard in a low-lying area.
French drain
French drains have become more and more popular over the years because they are functional and can be easily concealed. French drains can be covered with turf or mulch after it's been installed to keep the landscape looking beautiful.
While a modest-size drain can be installed with hand tools and basic measurements, those running more than 12 feet long will be more efficiently installed with equipment such as a compact excavator or compact tool carrier.
Keep in mind that the depth of the trench will vary based on the natural slope of the land. Even if there are high or low spots on the property, you must maintain the desired slope necessary for the French drain to be effective.
For a full list of French drain benefits, click here.
Route water into a drywell
Like the name suggests, this is a hole in the ground that remains dry most of the time, but when water is flowing it can be routed to the well by a swale or roof downspouts.
Drywells are used to transfer excess water deeper into the subsoil, and they can be a simple hole dug with a post hole digger that's filled with gravel and sand. They can also be as complex as a pre-cast concrete sleeve lowered into a bigger hole and fed by drainage pipes. It all depends on what your customer wants in the end, but either option, complex or simple, will get the job done.
Drywells can be particularly helpful in spots where downspouts flood large paved areas, or when your customers are dealing with runoff from a larger roof. Drywells can be dug in any low area where water tends to pool.
Be sure to check the landscape with a percolation, or "perc" test, before installing a drywell; this will show you whether or not the soil conditions are favorable for such a project.
Create a rain garden
For customers who may not necessarily want to have a French drain or drywell installed, consider talking to them about creating a rain garden. While it might not be as effective as the first two methods, it can still act as a good source of drainage while still adding the garden aspect to the landscape. If your customer has workable soil, then creating a rain garden shouldn't be an issue.
"Building a rain garden means you don't have to fight a losing battle to grow turf," Douglas Owens-Pike, plant ecologist and owner of EnergyScapes, told thefamilyhandyman.com. "It's also a great way to treat rainfall as a resource rather than a problem."
You'll want to start with a shallow depression that has amendable soil, so it will drain quickly. Be sure that the rain garden is located at least 10 feet away from the home's foundation so there will be no seepage problems.
The amended soil combined with water-loving plants will capture the excess water and allow it to slowly percolate into the earth, as opposed to it sitting on the surface of your lawn.
According to the Penn State College of Agriculture Sciences, there are three zones for rain gardens: wet zone, mesic (middle) zone and transition zone. Different plants will thrive in each zone, so carefully research before adding any plants to the garden.
For a full list of plants that thrive in a rain garden and which zone they belong to, click here.
Build a berm
Last week, we talked about the benefits of berms in a landscape, and what better time to build one than when your customer's yard could potentially flood? Keeping with the theme of functional drainage and beautiful landscapes, a berm is an excellent choice to satisfy both needs.
Berms are mounded hills of dirt constructed for blocking out unwanted or unsightly views, creating a subtle sense of privacy, directing or redirecting drainage and foot traffic, emphasizing a particular focal point or adding raised elements to the garden.
Before building a berm, have in mind where it will be placed in the landscape and where it will divert water. Be sure to place it strategically to divert incoming water away from the foundation of the house and areas where pooling is most likely to occur.
For more information on berms and how to create them, click here.