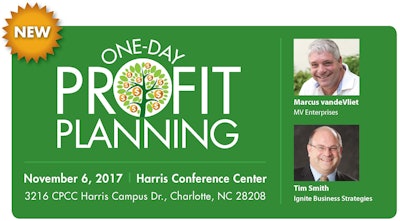 The North Carolina Nursery & Landscape Association (NCNLA) is holding a one-day intensive on business profitability, in response to the growing demand for landscape business management education.
The inaugural One-Day Profit Planning will be held on Nov. 6, 2017, in Charlotte, North Carolina. NCNLA is partnering with the Carolina Green Industry Network (CGIN), Marcus vandeVliet of MV Enterprises and Tim Smith with Ignite Business Strategies.
The intensive will have interactive sessions including:
Budgeting and Cost-Based Estimating – vandeVliet will discuss how to overcome the practice of "guesstimating" with a budget and estimating system that takes in direct costs, overhead and the needed profit margin.
Defining and Sizing Your Team for Profit – Smith will define and explore the roles and quantity of team members needed to be profitable.
Job Costing and Employee Accountability – vandeVliet will talk about connecting your entire landscape project process and how employee performance metrics can help with profits.
Proactive Sales, The Cash Machine – Smith will highlight predictable outputs and improved profits that can bring a proven sales process to your organization.
"'Do more to make more' is often the sentiment of landscape business owners that struggle with their bottom line," said Corey Conners of NCNLA. "Both Marcus and Tim are experts at providing real solutions for improving margins within their clients' current book of business. Simply put, their clients make more money doing the work they already do."
Early bird registration for the intensive closes at Oct. 27. Click here to register.
Registration for Sports Turf Managers Association's annual conference is open
The Sports Turf Managers Association (STMA) has announced it will hold its 29th annual Conference & Exhibition Jan. 16-19, 2018, in Fort Worth, Texas.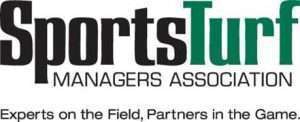 The conference will include 50 educational sessions and panel discussions consisting of sports turf managers, academic members and commercial representatives from high schools, colleges, parks, professional sports stadiums and more. There are eight educational tracks with topics such as turfgrass management, pest control and soil science.
One of the speakers present includes retired baseball coach Mark Johnson, and panelists Weston Appelfeller, Andy Gossel, Andy Loughnane and Megan Van Arsdale.
Along with more than 1,600 sports turf industry leaders, 130-plus sports turf students will gather at the Fort Worth Convention Center where they will compete for one of two $5,000 scholarships.
The STMA Student Challenge is presented in partnership with the SAFE Foundation, Hunter Industries and Ewing. High school and college students will be tested on plant and soil identification, irrigation and machinery parts, insects and agronomy, business practices and management along with other topics.
Winning teams, one from a two-year and one from a four-year institution, will be awarded a $5,000 scholarship.
"For almost three decades, STMA members from around the globe have come together for this annual event to share innovative ideas and best practices to advance our industry," said Kim Heck, CEO of STMA. "Our conference's intersection of leading experts and young professionals provide attendees with insightful educational programs and ample networking opportunities."
Participants will also have the opportunity to participate in the popular "Seminar on Wheels" tours which includes facility visits to AT&T Stadium, Dr. Pepper Ball Park, Ford Center at The Star, Globe Life Park, Texas Christian University, Toyota Stadium and Toyota Soccer Center.
Registration is now open. STMA advises booking online before Jan. 4 for the lowest rates. Click here to register.
NALP hosts PAC reception during GIE+EXPO
The National Association of Landscape Professionals (NALP) will be having a night of cocktails and conversation in support of the NALP Political Action Committee (NALP-PAC) on Oct. 18.
The NALP-PAC is one of the green industry's most important advocacy tools. It helps the NALP be proactive on issues that can affect landscaping businesses. The NALP-PAC builds important relationships with office holders and decision makers at the federal, state and local levels of government.
The event will be held at the Muhammed Ali Center in Louisville, Kentucky, from 9 p.m. to 11 p.m. The ticket price is $100 and 100 percent of the proceeds go to PAC funding, which is used for landscape professional friendly candidates and campaigns.
RSVP to Paul Mendelsohn or register online if you plan on attending this event.