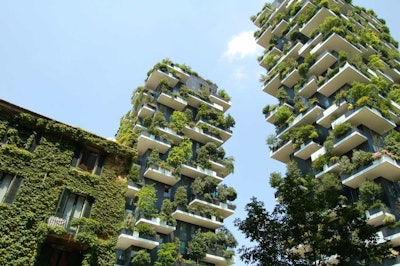 Green roofs and walls are changing the face of modern urban landscapes. They are popping up across the globe like mushrooms after a heavy rain in the fall. But, not everyone is quick to embrace this trend, failing to realize that green surfaces are much more than an aesthetically pleasing tweak.
They give us a chance to utilize the natural functions of plants and make a positive change in urban and suburban environments. This is a path we need to take in order to deal with the staggering air pollution levels and other environmental problems that are already greatly present.
Roof over our head
A green roof is any roof that is partially or completely covered with vegetation, typically planted on top of a waterproof membrane. It can also include a whole system of root barriers, drainage, greywater treatment, and irrigation. So, green roofs are not just about making buildings greener in a literal sense. They also improve the performance and longevity of roofs, acting as insulating blankets and regulating temperature. It is estimated that an average three-story building can save up to 25 percent in the summertime energy costs.
What is more, with their amazing absorbing properties, they decrease the stormwater runoff by 40-60 percent and thus decrease the amount of it that flows into sewers. Another great benefit is that green roofs mitigate the air pollution and the urban heat island effect. They trap particulate matter, conduct photosynthesis, and capture gases. Hence, the outdoor air quality is improved and there are fewer polluting byproducts.
This is not all, as green roofs can also integrate green technologies, such as photovoltaic panels and solar thermal collectors. And finally, with opportunities for food production and urban agriculture, the biodiversity in cities is increased. It is even possible for green roofs to provide habitat for wildlife. This could be a way to decrease the devastating impact of urbanization on nature and ensure a better and greener life for everyone on the planet.
Bring your walls to life
As for green walls, the term refers to any form of a vegetated wall surface. This broad concept encompasses three major categories: living walls, retaining living walls, and green facades. Living walls are comprised of pre-vegetated panels, modules, bags, or planted blankets that are adjoined to a structural wall or frame. On the other hand, retaining living walls are home to vegetation and act as a support for the urban slopes. Finally, green facades are systems of climbing plants, vines, or groundcovers that form a supporting structure.
Considering this variety, each installation of a green wall is unique, just like their specifics of technical performances. What they have in common is the sustainability. Namely, a high-grade green wall provides most of the benefits of green roofs due to its natural cooling properties – but with a few additional perks. These paragons of sustainability are also used to bring life to abandoned and derelict spaces. And apart from reducing the indoor temperatures by as much as 10 degrees, they also lower the effects of sound reflection.
Furthermore, strategically-placed green walls can substantially improve the indoor air quality and circulation, effectively dealing with volatile organic compounds (VOCs). Finally, note that decreased temperature fluctuations work miracles in terms of protecting the building's structure. As an extra insulating layer, the walls lower the impact of temperature on organic construction materials in the façade. Likewise, the masonry and exterior finishes are shielded from UV radiation and rain damage. This is another way in which green walls add to the sustainability of buildings.
Into the greener future
Green roofs and walls are the next great frontier of urban design and innovation. These landscaped building surfaces are signs of hope in the polluted and dirty concrete jungles that we call home. They bring forth significant economic benefits via thermal insulation and lower utility bills. Besides that, they naturally filter water and air. This is something that not only keeps the heat island effects in check, but it also preserves the health and well-being of humans and plants the seeds of a better world for the future generations.
EDITOR'S NOTE: This article was written by Derek Lotts, project manager for Open Source.