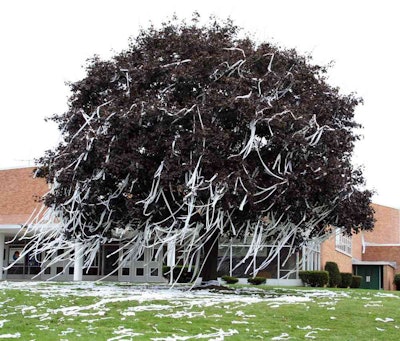 Since Halloween has come and gone, the remnants of candy-induced comas and spooktacular shenanigans may still linger.
For clients who woke up this morning to find their yards now resembling a two-ply covered nightmare, there is hope in sight for regaining normalcy.
The Davey Tree Expert Company has constructed a few tips to help those affected by toilet paper-based pranks performed by Halloween tricksters this year.
While the sight of toilet paper adorning trees doesn't look all that appealing, it really doesn't harm the trees. The harm comes to trees when individuals begin using unsafe or unproductive methods to remove said TP from the trees.
By following the guidelines recommended by Davey Tree, your customers' trees will stay safe and once again be able to see the light of this new November day.
Rain
Before the rain has a chance to set in, be sure to get rid of that lingering toilet paper. Once the paper has the chance to absorb the rain, it only becomes more of a nightmare. The moisture will cause the paper to become soggy and act like cement to the branches if not removed beforehand.
From the top
Contrary to popular belief, the experts at Davey recommend starting from the top of the tree and working your way down when it comes to cleaning up. With your trash bag in hand, be sure to place the toilet paper directly into the bag, as you won't want to have any straggling pieces clinging to the dew-kissed grass.
Utilize tools
When it comes to reaching those higher pieces of toilet paper, don't forget that you have a handy dandy supply of gardening tools at your disposal. This will keep you safer by steering clear of ladder usage. When removing the paper, don't pull or tug at it, as it will rip and the workload will ultimately double. Be careful to try and unwind the TP from the tree and delicately lift it with the tools. If the tools still leave remnants behind, try using a leaf blower to get the rest.
If you find there are pieces close to a power line, do not attempt to move it yourself. For instances such as this, a certified arborist should be called, or the remaining pieces should just be left alone.
Water and fire
Another excellent way of getting these small, remaining pieces down is to spray them down with a hose. This will likely cause small giblets to be strewn about the yard, but these will still be easier to clean up than if they remained in the trees.
Although it is a popular recommendation from some, experts at Davey Tree stress the importance of avoiding the use of fire when removing toilet paper from trees. This can increase the chances of house, lawn and tree fires, and Davey Tree says that they have seen this happen before.