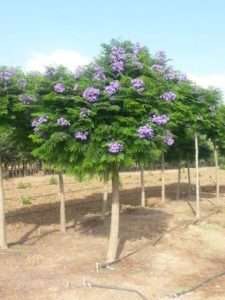 Village Nurseries featured the world's first dwarf Jacaranda (Jacaranda 'Sakai01' Bonsai Blue PPAF) and other new plant introductions at the 2017 American Society of Landscape Architects (ASLA) National Conference and Expo.
As a specialty grower, Orange, California-based Village Nurseries says it offers the variety, quality and depth of product demanded by landscape architects seeking wide options of trees and shrubs. Many of these, Village Nurseries says, are patented or exclusive and not readily available at other wholesale nurseries.
The company's booth included Village Nurseries-grown Monrovia's Distinctively Better plants as well as Anthony Tesselaar's Flower Carpet roses and the Sunset Western Garden Collection.
Attendees were able to view a variety of grasses, hedges/screens, shrubs and trees, which included many of the following new introductions:
Shrubs
Callistemon Bottle Pop Neon Pink
Ceanothus maritimus 'Valley Violet'
Cistus 'Little Miss Sunshine' PP22364
Coprosma Pacific Sunrise PPAF
Coprosma Pacific Sunset PPAF
Galvezia speciosa 'Firecracker'
Lagerstroemia Double Feature PPAF
Lavandula allardi 'Meerlo' PP 25276
Mahonia 'Soft Caress' PP 20183
Nandina dom. 'Lemon Lime' PPAF
Pittosporum t. Beach Ball PPAF
Rosa 'Meiradana' Icecap PP 26790
Grass or Grass-like
Anigozanthos rufus 'Backdraft'
Bouteloua g. 'Blonde Ambition' PP
Carex o. EverColor 'Everillo' PP 21002
Cordyline Festival Burgundy
Dianella Clarity Blue PPAF
Lomandra Lime Tuff PP 23034
Lomandra long. 'Platinum Beauty'
Muhlenbergia cap. Plumetastic
Muhlenbergia cap. 'White Cloud'
Phormium 'Black Adder' PP 20451
Trees
Jacaranda 'Sakai01' Bonsai Blue PPAF
Michelia Fairy Magnolia
Hedge/Screen
Callistemon vim. 'Slim' PP 24444
Laurus nobilis Little Ragu PP 25915