From October 2017 through May 2018, Rain Bird Training Services will host over 60 irrigation training events throughout the United States; these classes are open to irrigation professionals at all experience levels, including contractors, distributors, golf course superintendents, designers and architects.

All Rain Bird training classes count toward continuing education units (CEUs) from the Irrigation Association (IA), along with some counties and nationwide organizations.
"The need for highly trained, knowledgeable irrigation professionals continues to grow," said Paul Lierheimer, director of Rain Bird's contractor division. "That's why we've packed our training curriculum with a wide variety of courses. We want to help both new and experienced irrigation pros learn about the latest techniques and technology that can help homes, businesses, athletic fields, golf courses and parks use less water in the pursuit of healthy, attractive turf."
There are three different ways irrigation professionals can enhance their skill set, improve career prospects and become better water managers, according to Rain Bird Training Services.
The first option is the Rain Bird Factory Trained Classes, which provide comprehensive training on Rain Bird products and help attendees become experts on installing, maintaining and managing Rain Bird irrigation systems.
By becoming Rain Bird Factory Trained, the company says irrigation professionals can earn a specific designation that proves they are the best choice for the job.
During the 2017-2018 training season, Rain Bird Services will host 28 Factory Trained classes, which the company says will span a wide range of topics, including low-volume irrigation, valves, residential controllers, commercial controllers (ESP-LX), central control systems (MAXICOM and IQ v3.0) and decoders.
The second is the Rain Bird Academy Classes, which the company says provides general irrigation skills training on products from various manufacturers. This training will include Rain Bird's five popular boot camp classes, which are endorsed as "IA Select" courses by the Irrigation Association. This boot camp provides attendees with the basics of irrigation in just one short week, which the company says makes it ideal for individuals who are new to the profession.
The third is the Rain Bird Customized Training, which Rain Bird says is ideal for medium and large-sized irrigation contractors, irrigation distributors and public agencies.
"We realize that sending a large group offsite for irrigation training can be cost-prohibitive and logistically difficult," said John Sais, senior technical trainer for Rain Bird Services. "Our customized, on-site training can be much more affordable, and it allows larger organizations to train employees with varying skill levels on products and practices that are completely relevant to their specific needs."
Rain Bird will also host two Professional Irrigation Training Camps (PITC), which will include both Factory Trained, boot camp and golf training tracks. This, Rain Bird says, will give attendees the flexibility to register for those courses that best meet their needs.
The first PITC will take place in Las Vegas, Nevada, from Dec. 11-15, 2017, and the second will take place in Orlando, Florida, from Feb. 12-16, 2018.
"We've been training irrigation professionals since 2003," said Robert Pfeil, marketing group manager for Rain Bird Services. "Over the years, we've been able to gain valuable feedback and enhance our class offering to ensure we're teaching attendees the skills they need to be truly competitive in this industry. We're constantly researching new products, technologies and techniques so that we can provide the most relevant, up-to-date irrigation training that helps individuals, businesses and organizations achieve new levels of success."
Oklahoma State University selects IrriGreen Genius Irrigation System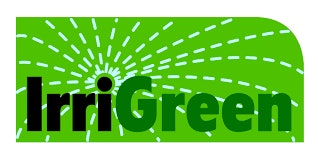 Lou Anella, a professor of horticulture and landscape architecture at Oklahoma State University (OSU), began a search for a new lawn irrigation system, and his search ended when he found the IrriGreen Genius Irrigation System.
He also serves as the director of The OSU Botanic Garden, and his irrigation class students installed the IrriGreen Genius at the Botanic Garden.
"In research, in the classroom and at the Botanic Garden, we emphasize resource conservation, sustainable design and environmental stewardship," Anella said. "That's why I introduce new technologies to my irrigation students (including landscape management and landscape architecture majors), visitors to the Botanic Garden and viewers of Oklahoma Gardening."
Anella said that with the IrriGreen system, there is no wasted water from spraying past the lawn onto sidewalks. He adds that the IrriGreen system contains its sprays within the outline of the lawn, following the curve and corner.
Integrated into its programmable Genius Sprinkler Heads, IrriGreen says its patented software digitally controls water pressure, direction and distance of the water sprays and the rotational speed of the heads.
The system modifies the sprays up to 437 times per rotation so the watering patterns conform to the exact shape of the lawn, the company says, and it utilizes mapping points set by installers with the IrriGreen Mobile App.
According to the Environmental Protection Agency (EPA), landscape irrigation accounts for nearly nine billion gallons of water per day in the U.S. and as much as half is wasted because of the inefficiency of sprinkler systems with mechanical sprinkler heads.
One of IrriGreen Genuis' head per irrigation zone was evaluated by the Center for Irrigation Technology (CIT) against conventional systems with six to nine mechanical rotors or spray heads. Using 40 percent fewer gallons of water, IrriGreen says its system increased soil moisture by equivalent amounts.
IrriGreen will exhibit at the Irrigation Show 2017 at the Orange County Convention Center, Orlando, Florida, on Nov. 8-9, 2017.
ConserWater launches online dashboard for precision irrigation
ConserWater Technologies recently announced the launch of ConserWater Web, which is a web dashboard in the United States.

ConserWater says it is disrupting the irrigation paradigm by providing watering predictions to a level of precision of soil moisture sensors, but without the physical equipment and at a fraction of the cost.
"We are very excited to make ConserWater's irrigation predictions available through our newly released cloud dashboard, ConserWater Web," said Aadith Moorthy, founder of ConserWater Technologies.
ConserWater says it can improve irrigation water efficiency by 30 percent, and has no physical equipment. It relies on NASA satellite data, topography, weather data and a variety of other information, along with Artificial Intelligence (AI) to predict irrigation water needs.
A year-long subscription to the ConserWater Web dashboard can be purchased from ConserWater Technologies' official website, and pricing starts from $1.99 a month.