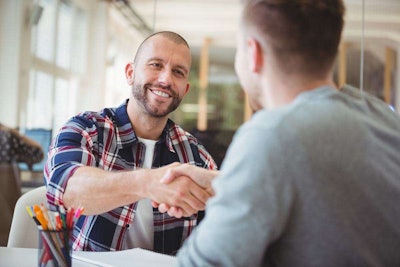 Creating and maintaining positive relationships with customers is important for helping your business thrive, but how exactly do you do it?
Customers drive and make a business, so be sure to pay close attention to them, their needs and suggestions they may have on helping boost your brand. By staying connected to your customers, you'll have a better idea of what's working and what needs some tweaking in your company.
With the holiday season right around the corner, now is the perfect time to think about different ways you can spread some good vibes to your customers and, in turn, help keep those relationships positive and thriving.
Be personal
While collecting feedback and customer data is vital to growing a company, it's not the most important aspect of customer interaction. If the relationship is not intentional and personal, it will eventually fade. This could lead to negative customer feedback or the loss of a long-time customer.
"The key is to meet customers where they are at – whether it's on Facebook or at the local coffee shop," David Reiling, CEO of Sunrise Banks, told Business News Daily. "In the end, it's all about developing a trusted relationship."
Even if it's something as simple as sending thank you notes or holiday cards to your customers with a personalized message, the sentiment will resonate well with clients, and it will show that you care enough to take time out of your busy day to do something special for them.
Don't treat this as just another sales opportunity by talking about products in the note; strictly make it about thanking your customers for their dedication over the years and wish them a happy and safe holiday.
This same concept can be used when networking and meeting with customers on a regular weekday. Don't always try to push your products when meeting with a client. Sometimes just sitting down to talk to them as a person, not a customer, can give them peace of mind that encourages them to keep doing business with you in the future.
Face to face interaction
In the world we live in today, there's not nearly as much face to face interaction as there used to be. This, in large part, is because of the ample amount of communication tools we now have at our fingertips, but harnessing the power of face to face communication can really push you ahead more than you may realize.
Take advantage of this method of communication, especially with older and middle-aged customers. The long lost art of sitting down to chat is not lost on that generation for sure, and it will actually help you establish a more solid relationship with them than a phone call, flyer or email ever would.
For younger generations, don't sell them short when it comes to talking face to face. Many may think that the technologically-prone millennials lack the ability to hold a conversation in person, but that's not true at all. Whatever age your customers are, human to human interaction can boost the appeal of your company, and can give you the opportunity to get to know more about your customers and what makes them tick.
If your company does send out letters, emails and flyers along with conducting phone calls, following these up with a personal visit can help add that little extra personal touch to the mix.
Peelu Shivaraju, the owner and operator of a Money Mailer franchise in Michigan, told Business News Daily that he enjoys stopping by to see his customers to help build both a professional and personal relationship with them.
"I like to get to know my clients, what their businesses are all about," he told Business News Daily. "I do a lot of research about their business and ask them lots of questions to genuinely show interest. I want to learn everything I possibly can so that I know how best to help their business."
At some point, you will run into clients who may not necessarily prefer face to face interaction for whatever reason. If this does happen or you get an uneasy vibe after meeting with a customer in person, ask them what their preferred method of communication is. If they would prefer you call, text or email, then go forward with that plan. Being willing to adjust in these circumstances will help customers know you are willing to work with them and respect their boundaries.
Dr. Kathryn Smerling recommends establishing and maintaining eye contact, offering a firm handshake and smiling when meeting with customers.
"Human connections are everything, in your personal life and in business," Smerling told Business News Daily.
Keep current customers in mind when growing your company
When your customers are happy with your business and what you offer, it will continue to grow and flourish. With this in mind, be sure not to get too caught up in growing and expanding your business that you forget to take time to still meet and talk with customers.
Letting them go by the wayside so you can focus on growing and getting bigger is counterproductive, and it could wreak havoc on customer service and customer satisfaction in the end.
"I understand that business owners are always busy, so I always try to work around their schedules," Shivaraju told Business News Daily. "All new clients get a follow-up visit after the first mailing goes out as well as another in a few months to see how it's going. As long as [clients] give me a reasonable window of time, I'll always make myself available at a time and place of their choosing. My clients always come first."
Show appreciation
Just like you do with friends and family, be sure that you show customers they are important and that they play a significant role in your company.
Companies like Greenleaf Landscaping & Gardens based in Greenleaf, Wisconsin, hold a yearly Sunset Garden Party, which takes place in July and features live music, vendor tents from local wineries and cheesemakers and a sale on plant and gift items.
"We've kind of used it as a thank you," says Dorene Schuster, who owns Greenleaf along with her husband, Ken. "We send tickets to all of our clients from the past two years and that gets them here and thinking about maybe another project or buying things from the garden center. It's a lot of fun and all of our employees embrace it."
As stated earlier, holiday cards and thank you notes are also excellent methods to use when looking for ways to express appreciation. Adding in a special holiday discount can help keep customers coming back for more, as well as sending out notes thanking them for doing business with you.