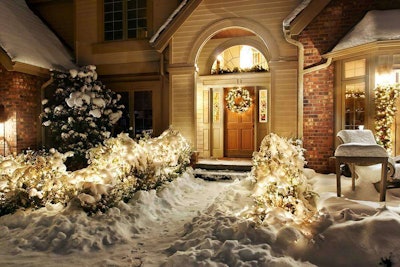 As November bids us adieu this week, the daylight hours continue to shorten leaving many of us in the dark for the rest of the evening.
Yet if your client has landscape lighting they can still enjoy their outdoor space for hours to come. Lighting also becomes far more important for safety in the winter so follow these tips to get their exterior lights ready for winter.
Clean lights
If your customer is complaining about their lights appearing dim even though they are working, a good cleaning might be in order. Bugs, dirt, and other detritus can block the light. Shut off power to the unit before cleaning. Before working on a fixture check for nests that wasps or other stinging insects might have built.
Use a glass cleaner to wipe down the lenses. Pull cobwebs or dirt out of the enclosure and use a damp cloth to wipe down the surrounding metal.
Change bulbs
Extreme swings in temperatures can shorten the lifespan of a bulb. Change out bulbs as soon as possible when one burns out, otherwise nearby bulbs receive more voltage, which can also shorten bulb life. Talk to your clients about switching to LEDs, as they last three to 10 years longer and perform better in the cold.
Inspect lighting system
Because your clients are going to be counting on their lights to illuminate their paths, take some time to inspect their properties and make sure that fixtures are still positioned properly. These can be moved out of alignment or get damaged by landscaping or high winds. If your company doesn't handle your customers' snow removal, advise them to let that company know where lighting fixtures are located along drives and walkways.
While checking your clients' landscape lighting, be on the lookout for exposed wires as the freeze/thaw cycle can sometime cause a wire to work its way to the surface. Wires should be reburied before the ground freezes, if possible.
Swap fixtures
If your client is wanting to upgrade their fixtures, swapping to cast bronze before winter is a good idea. It is a particularly durable material and is impervious to corrosion. Once installed it will darken to a penny-brown and then develop a greenish-blue patina. This aging process can be sped up over the winter thanks to the presence of rain, snow, and condensation.
For outdoor chandeliers or ceiling fans, it is advised to remove any glass and bulbs and store them in a safe place for the winter.
Dim things down
For fixtures highlighting trees, it's important to adjust the brightness down a bit once the leaves have fallen as the bare branches can look a little severe in the harsh light. This look works for a haunted house effect, but adding frosted lenses or disconnecting some of the fixtures can soften the lighting. Also lowering the angle of the light so it highlights the trunk instead of the exposed branches helps.
Adjust timers
Just like how the clocks have to change with the end of daylight savings time, outdoor lighting timers also need to be adjusted accordingly. Most will turn on at dusk and turn off after a set number of hours, so account for the shorter days and update the lighting schedule.
Remember that if there is power loss, you will need to reset the landscape lighting timer.