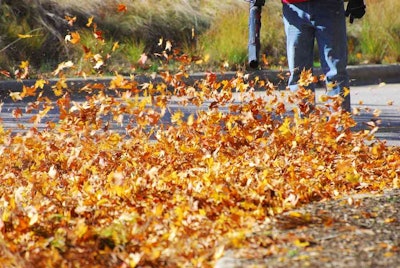 In Maplewood, New Jersey, residents are still wrapped up in the ongoing debate surrounding the leaf blower ban, which is facing troubles as a new lawsuit opposing the ban is filed.
According to TAPintoSOMA, township workers are ignoring some parts of the new law.
Last April, the New Jersey Landscaper Contractors Association (NJLCA) filed a lawsuit opposing the ban in federal court, but it was dismissed. They re-filed the lawsuit on Oct. 27, and this time it included nine landscape contractors that do business in Maplewood as co-plaintiffs, according to TAPintoSOMA.
"This is essentially the same lawsuit, but it names individual landscape contractors that do business within the township that are also members of the association," David J. Mairo, an attorney representing the NJLCA, told TAPintoSOMA. "It was a technicality, there was some confusion with respect to whether or not an association could be named. Based on some subsequent meetings with the association, several said they would be individually named."
According to a copy of the suit provided by the township through an open public records request, included in the list of contractors signing as co-plaintiffs are County to County Landscaping, Glenn's Landscaping, Anthony's Landscaping, Joe Zuzuro Landscaping & Design, Rick D'Addario, A&J Landscape Design, Grounds for Improvement and Maplewood Tree Experts.
According to TAPintoSOMA, the lawsuit cites Maplewood's ordinance's determination that all gas-powered leaf blowers create a "health hazard and annoyance to residents." However, the ban only applies to commercial leaf blowers.
"Thus, the ordinance effectively provides residents and non-commercial entities unfettered, unrestricted and unlimited use of gas-powered leaf blowers," TAPintoSOMA quotes from the lawsuit.
Officials of the township declined comments, according to TAPintoSOMA, since the litigation is ongoing.
Dating back to 2016, the opposition to gasoline-powered leaf blowers began when Nancy Adams, a member of the Maplewood Township Committee (TC), sponsored a ban that initially outlawed commercial firms from using the gas leaf blowers during June, July and August of that year.
Revised to begin on May 15 and run to the end of September, TAPintoSOMA states that it also set certain hours for use, and a complete ban on Sundays by commercial entities. TAPintoSOMA also says that electric leaf blowers were exempt, as well as those used by residents.
Also required by the new law is that commercial workers use specific hearing and breathing safety equipment.
The ban did not specifically include the township and its workers among the ones barred from using the gas-powered devices. Township officials said they would seek to follow the new law and phase out gas-powered blowers by public works employees who clear parks, and other township locations of leaves. TAPintoSOMA said they have also stipulated that township workers use the safety equipment.
"I am going to forward to (DPW director) Calvin Bell because the workers are not wearing protective respiratory equipment, which is required by ordinance," Adams told TAPintoSOMA via email. "I will also ask him why they are not using the new battery powered ones that DPW purchased; perhaps they were being used elsewhere."
She later added in an email to TAPintoSOMA: "I spoke with Calvin. He will be sure the workers not only have protective equipment required by ordinance, but that they use it. The electric blowers we already own are in use as well as the gas blowers."
When asked if there are plans to expand the ban to be in effect during the fall or perhaps year-round, Adams told TAPintoSOMA the legal issues make it more difficult.
"There are no plans to change the ordinance at this time since the township is being sued by the NJ Association of Landscape Contractors and several landscapers that do work in town," Adams told TAPintoSOMA via email. "Their claim is that the law unfairly targets landscapers while allowing residents to use their gas-powered blowers. Doubtful I can comment further on it because the litigation is pending and will undoubtedly go on for a while."
The township had until Dec. 5 to respond to the lawsuit, according to attorney Mairo. TAPintoSOMA states that Mairo says the contractors are glad to meet with township officials and seek a compromise solution.
"Ideally, (our goal) would be to get rid of (the ban)," Mairo said in an interview, according to TAPintoSOMA. "But, honestly, let's sit down and talk about something more reasonable. Maybe some limits on the number of leaf blowers that could be used at any one time."
Two charged in theft of stolen vehicles, equipment recovered in Webberville
According to Livingston Daily, two men are in custody, and police recovered more than $250,000 in stolen vehicles, trailers and other equipment in Webberville, Michigan, in connection with the theft of snow plows from a Hartland Township business last month.
According to Livingston Daily, Joshua Daniel Couden, 27, of Wixom, was charged with one count of larceny, three counts of receiving and concealing stolen property and one count of receiving and concealing a stolen motor vehicle in 53rd District Court in Howell.
Charged with two counts of receiving and concealing a stolen motor vehicle and three counts of felony firearms possession was Albert Taze Cook III, 28.
Eight commercial grade snow plows stolen from Beauchamp Lawn Care and Landscaping Supply's Hartland Township property were among the stolen items, according to Livingston Daily.
Livingston Daily reports that police say the men were arrested after trying to sell the plows online.
"Employees at Beauchamp's located several social media ads displaying identical plows for sale," according to a news release from state police. "In addition, Craigslist ads were found on the Internet displaying the plows for sale using the same photo. Using this information from the tips, suspects were developed."
"The trooper (on the case) is working with other agencies to check serial numbers and coordinating to get the equipment back to the rightful owners," Lt. Mario Gonzales of the Michigan State Police Brighton post told Livingston Daily.
As of Tuesday, both men were being held in the Livingston County Jail, and bond was set for $50,000 for both.
Landscaper hospitalized after bee attack
A swarm of bees recently attacked a landscaper in Cape Coral, Florida, and sent him to the hospital.
Reports say the bees lived in an unmaintained underground transformer box owned by Lee County Electric Cooperative of LCEC, which is located in a field behind an apartment complex on Cape Coral Parkway West.
According to NBC 2, exterminators from Tony's Pest Control were hired to handle the Africanized bees. Fire officials, an eyewitness and two men were attacked; both men were landscape workers. NBC 2 reports that one man was treated at the scene and released, and the other man was sent to the hospital.
"Normal bees you can get close to them unless you actually disturb the hive, they don't typically do too much," Cape Coral Fire Department Battalion Chief Kevin Haines told NBC 2. "However, in this case just the simple fact of a lawnmower or lawn equipment being near the scene, the vibrations stirred them up enough that they got very aggressive and attacked the two patients."
Haines tells NBC 2 that this happens more often than people realize, and there are probably four to five incidents like this each year.
In a statement, LCEC said, "LCEC works with a local beekeeper to remove bees when we find them or when a customer advises us. We inspect equipment annually and find them from time to time. It does not take long for a hive to develop so it is an ongoing effort."
NBC 2 reports that exterminators were able to remove 80 percent of the hive at the attack site, but many of the bees died.