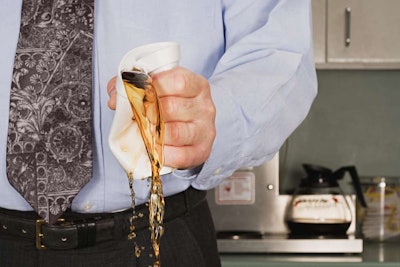 Workplace violence is no laughing matter, and unfortunately it is something that more and more companies are becoming familiar with.
While it's possible your business has not had to face this kind of issue, there's always a chance it could rear its ugly head, and having a plan of action and preventative methods could save you time and trouble down the road.
Real world incident
Massachusetts police were called to an incident allegedly involving a landscaper brawl.
Occurring in Brookline, Brookline Patch reports that police arrested 23-year-old landscaper named Wesley Coelho for attacking another landscaper with a string trimmer. Police report that one of Coelho's swings caught the victim in the face, and Coelho was charged with assault and battery with a dangerous weapon.
Brookline Patch reports that both men involved in the fight reported to the police station separately to tell their side of the altercation. One man told police he was minding his own business when Coelho attacked him with a string trimmer.
Coelho said this allegation was false and said the other worker pulled a knife on him, so he began throwing punches. Witnesses sided with the other worker's accounts, and police said they could find no evidence that a knife was ever shown. According to Brookline Patch, police reports indicate that the inclusion of the knife appeared later in Coelho's story.
The landscape company owner knew there was a dispute between Coelho and the other worker, but he told them to stay away from each other during the work day, according to the police report.
Brookline Patch said that according to reports made by witnesses and the victim, around 3 p.m. that day, Coelho came at his coworker with the running string trimmer and struck him once on the right side of his forehead with the plastic line.
Another worker knocked the string trimmer away from Coelho with a rake, but Coelho allegedly swung the engine around and struck the man on the left side of his face. It was reported that another worker then punched Coelho in the face, causing him to drop the string trimmer.
The report says that Coelho was then tackled to the ground and subdued until authorities arrived on scene.
Statistics
According to the Occupational Health and Safety Administration (OSHA), workplace violence is defined as, "any act or threat of physical violence, harassment, intimidation or other threatening disruptive behavior that occurs at the work site."
This can include anything from physical confrontations, verbal threats and in some cases homicide.
Reports from CNN say that around 700 people are murdered in their workplace each year. The network says that between the years 1992 and 2012, 14,770 cases of workplace violence were reported, all of which were homicide victims.
While many cases of workplace violence result in fatalities, the cases of nonfatal occurrences are more common. The network also reports that in 2009, there were 572,000 cases of nonfatal crimes committed in the workplace, and overall, OSHA estimates about 2 million cases of workplace violence occur each year.
According to the Federal Bureau of Investigation (FBI), there are four types of workplace violence:
Violence committed in the workplace by someone who doesn't work there but has a personal relationship with an employee.
Violent acts by criminals who have no other connection with the workplace but enter to commit robbery or another crime.
Violence against coworkers, supervisors or managers by a present or former employee.
Violence directed at employees by customers, patients, clients, inmates, students or any others for whom an organization provides services.
Prevention tips
The FBI says that, "Employers have a legal and ethical obligation to promote a work environment free from threats and violence."
With this in mind, remember the following recommendations to prevent workplace violence.
Harassment policy
Start by creating a policy that prevents harassment. With this step, involve everyone in the business, such as employees, managers, executives and more. Be sure to keep them up to date on the policy, and involve them in all aspects of it to keep everyone on the same page.
Distribute the policy widely, and be sure that every employee understands it. With procedures in place, complaints can be handled better, and they can be taken care of quickly and privately.
Effective communication
The next important step is to create a line of communication that's effective. When working to prevent workplace violence, communication is an important factor that can sometimes go overlooked.
When it comes to getting away with acts of violence, perpetrators thrive on the silence of their victims and witnesses, so encourage those in your work environment to have regular meetings and practice open communication. Hopefully, these meetings can help diffuse tension or misunderstandings that may have occurred during the work week.
When your teams gather for such meetings, take note of how they interact together. If you see any conflicts arising, take initiative and shut them down before they grow into something detrimental.
Be as clear and precise as possible when defining what constitutes unacceptable behavior, and consider giving clear examples. Tell your employees the company's view of workplace violence and other like matters, and discuss the company's commitment to creating a safe work environment.
Training and awareness
Holding training sessions and taking time to provide awareness to your employees in the event a violent intruder arrives is another important step. Creating an Emergency Response Plan is imperative in the workplace, and having training sessions to go over such plans should also be a top priority.
Talk to employees about coming forward and speaking out when they see something that could be construed as workplace violence, harassment and more. Be sure they know that reporting such incidents is a confidential process, and assure that no retaliation will be made against employees that do report such instances.
Employee relationships
Encourage your employees to get to know one another and accept the unique differences and qualities each employee brings to the table. Each bit of diversity only strengthens the workplace, and building these up instead of tearing them down will only create a healthier work environment.
Encourage open-mindedness when discussing matters and dealing with problems, as each person in your company is important and deserves to be treated as such.