Case Construction Equipment is now accepting entries for its Case Kickstart Contest, which is a business development contest where the company says that landscaping contractors can win prizes designed to take their company to the next level.
Case says that business owners are encouraged to enter the contest; to enter, click here. Contestants can enter by answering basic questions about their operation and describing how they would evolve their services if they won the contest. The deadline for entry submissions is March 30.
"Many landscape contractors have the entrepreneurial spirit to grow their business, yet lack the assets to provide a catalyst for that growth," says Scott Harris, vice president — North America, Case Construction Equipment. "Their work helps build and enhance our communities, which is a driving principle of our company. So, we intend to reward that entrepreneurial spirit and desire to improve another community by boosting their business with efficient and powerful tools to help get them started."

There will be one grand prize winner and one runner-up that will be named, and the grand prize winner will take home the following prizes:
A six-month lease on any one piece of Case Construction Equipment.
A yearlong consultation with Jeffrey Scott that includes in-depth business analysis, personal coaching and consultation, follow-ups throughout the year and a recap session to gauge results and set next steps.
A $3,500 Case Parts & Service Reward Card to go towards the purchase of attachments, fluids, etc.
Fleet management consultation and recommendations from Case staff throughout 2018.
Brand-new, custom-branded Case apparel/uniforms for staff.
Up to five passes to GIE+EXPO 2018 in Louisville, Kentucky.
Scott, along with Case representatives, will choose the winning entry, and the runner-up will receive select consultative and apparel considerations from Case. Case says that all entrants will receive a retail offer for $250 off the purchase of $3,500 or more in Case OEM attachments, which is valid April 1 through July 31.
"We'll be looking for a proven track record, but also a drive and dedication that makes it clear that this prize package will truly affect the winning company and each of its employees for the better," says Scott. "We're looking for entrepreneurs willing to do the work, to look at their business from a different perspective and reap the rewards when each component of the prize package is engaged."
SnowCare for Troops, BOSS Snowplow asking for winter volunteers
With more winter months still ahead, BOSS Snowplow still invites interested snow and ice professionals and military families to sign up for SnowCare for Troops. This program pairs volunteer snow and ice removal contractors with local military families and disabled veterans in need of help.

The program is now in its eighth year and has provided free snow and ice removal services for more than 1,500 military families. The program provides services to military families across the country with an active deployment and veterans with a post-9/11, service connected disability, and it is sponsored by BOSS Snowplow.
"Snow and ice professionals do the hard work of restoring order to their communities after winter snowstorms," said Mark Klossner, marketing vice president for BOSS Snowplow. "Through the SnowCare for Troops program, we're able to help our nation's heroes and their families when they need it most."
Briggs & Stratton acquires assets of Ground Logic Inc.
Briggs & Stratton recently acquired the assets of Ground Logic Inc. of Lincoln, Nebraska. The company is a designer and manufacturer of stand-on commercial spreaders and spreader/sprayers for fertilizer and pesticide-herbicide lawn applications on mid- to large-sized residential and commercial properties.
"This acquisition supports Briggs & Stratton's strategy to 'fill out the trailer' of the commercial lawn and turf professional, with highly-regarded products that are built to stand up to the toughest working demands," said Harold Redman, senior vice president and group president – Turf & Consumer Products, Briggs & Stratton. "We will be able to use our industry-leading global distribution network to accelerate growth and are eager to add these products to our portfolio of outdoor power equipment to help commercial business owners get the job done."
Briggs & Stratton says the company financed the transaction from cash on hand, and it expects the acquisition to not have material effect on fiscal 2018 earnings or cash flow. The company says that this acquisition supports growth in the attractive lawn and turf market and also brings innovative technology to the company.
STMA announces details for 29th annual conference and exhibition
The Sports Turf Managers Association (STMA) recently announced details for its 29th annual conference and exhibition, which will be Jan. 16-19 in Fort Worth, Texas.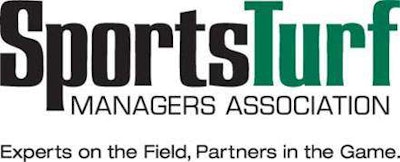 STMA reports that the Fort Worth Convention and Visitors Bureau confirmed the community is projected to receive an estimated $3.5 million monetary injection from the influx of conference attendees in the area. This, STMA says, includes $1.9 million in direct sales from food and beverage consumption, lodging costs and business service expenses.
STMA says this conference will spur more than a 955 percent return on investment, while nearly 450 jobs will be supported throughout the week.
"We look forward to economically enhancing the Fort Worth community through our presence at the 2018 Conference," says Kim Heck, CAE, CEO of STMA. "The invaluable information that sports turf managers from around the world will gain and share at the Conference will be extremely beneficial to each person's overall career development."
It's projected that there will be close to 50 educational sessions and panel discussions that will include sports turf managers along with academic and commercial representatives from universities, colleges, schools, professional sports stadiums and parks and recreational facilities.
With eight educational tracks, STMA says topics will include turfgrass management, pest management, synthetic, professional development, renovation, industry developments, soil science and facility management.
STMA says that a new networking event has been added to the conference slate, along with the educational sessions. The SAFE Foundation, which is a charitable arm of STMA that the group says enriches communities by championing safe, sustainable sports and recreational fields, will replace their annual golf tournament with a Topgolf outing. This will take place at Fort Worth's newest Topgolf location, and all proceeds will benefit the SAFE scholarships and educational outreach programs.
STMA says that the "Seminar on Wheels" tours will be returning for the 2018 conference, and there will be two tours this year. The first still take place on Tuesday, Jan. 16, and the second will take place on Friday, Jan. 19.
Facility visits on Tuesday will include the following places: AT&T Stadium, Ford Center at The Star, Toyota Stadium and Toyota Soccer Center and Dr. Pepper Ball Park. Facility visits on Friday will include the following places: Globe Life Park and Texas Christian University.
Enviro Distribution, LLC introduces AireHaven 1000 motorized air purification mask
Enviro Distribution, LLC has recently introduced its AireHaven 1000 motorized air purification mask, which the company says will greatly benefit those in the landscaping business.
The company says the mask protects the wearer against pollutants caused by powered lawn mowers, as well as when using fertilizers and pesticides.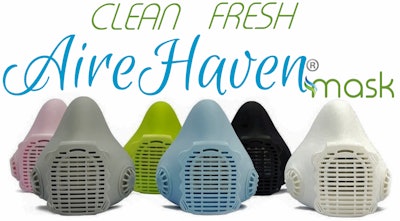 Enviro Distribution, LLC says the mask is lightweight and features a built-in two speed fan and a three-stage filter that keeps the user cool and comfortable. The company adds that the mask also protects users from harmful environmental risks.
The company says that the AireHaven 1000 provides a continuous flow of fresh, filtered air, and they say it also removes harmful particulates, carcinogens, smoke, dust and other dangerous air pollutants.
"AireHaven is very proud to bring this air purification mask to market," said Louis Benny, co-founder of AireHaven, Inc. "We are extremely confident that the AireHaven 1000 is a mask people will actually want to wear when they know they should be wearing one. Environmental safety masks are often uncomfortable and cumbersome, but with the AireHaven 1000, there are no long, bothersome straps that don't adjust to the face."
The company says that the AH1000 3-tier filtration system filters out pollutants and fine particulate matter (PM 2.5), smog, everyday pollen, common viruses and other allergens.
The masks are USB rechargeable, and the company says they deliver eight hours of use on low speed and five and a half hours of use on high speed after one hour of charging.
"The cooling fan means users won't have to sweat through their work days, re-breathe their own exhaled air or struggle with fogged up glasses," said Benny. "People work hard all day, but with the AireHaven 1000, their breathing no longer has to."
The company says that the mask's multi-stage, high efficiency filters can be replaced, and they weigh in at only about four ounces. The AireHaven 1000 is made of medical level silicone with no metal parts, and the company says that it provides a constant flow of fresh air with very low noise and vibration.
They are available in the following colors: pink, blue, black, white, gray and green.