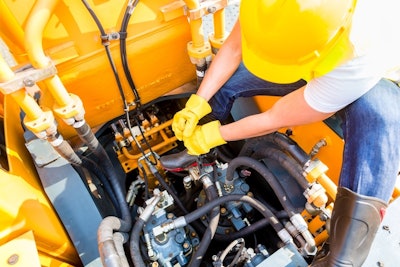 When it comes to equipment repair and replacement, how do you know when each action is needed?
While there are times when repairs are necessary, there may be other instances where a quick fix is used instead of having to purchase a new machine.
These temporary fixes may help cut down on the short-term costs of purchasing new equipment, but after a while it will become counterproductive to keep repairing an outdated machine.
When you hold on to a piece of equipment longer that you need to, it can result in repair bills that are very expensive, as well as costly downtime and the eventual reduction of equipment value.
According to Micromain Building Technology, before making a definitive decision on repairing versus replacement, the following points should be considered:
Ongoing maintenance costs over the remaining life of the equipment
The impact any repair would have on productivity and quality
Costs incurred from the equipment downtime
Health, safety and environmental costs that come with equipment breakdown
Training costs for a new piece of equipment
Disposal costs
Take a more in-depth look at a few tips that will help you accurately assess the state of your machinery before choosing to repair or replace.
Engine lifespan
On many pieces of heavy equipment, the engine is the first part that will need to either be repaired or replaced. When it comes to air-cooled engines, many experts would recommend multiplying the horsepower of the engine by 100, which will give you an estimate of your engine's lifespan. This, of course, also depends on how well the engine is maintained.
Once the engine has reached this number, take stock of how the rest of the machine is running, and this will also help you determine whether or not the engine simply needs to be replaced or if the machine in its entirety should be replaced.
For liquid-cooled engines, experts recommend multiplying 150 by the horsepower of the engine to find the estimated lifespan.
Costs
As mentioned earlier, keeping machines too long can cut down on their value, cause more downtime and affect performance. Some landscapers avoid this by trading in their equipment after a few years, which would keep them from having to pay for a larger repair bill.
Keep in mind that if you don't see yourself needing a piece of equipment, it's probably best to not purchase it. If it will go unused, why waste the money and time on it?
When thinking about the cost of equipment, be sure to look at it as a long-term investment. Consider future costs of repair or replacement, and when looking at new pieces, consider the purchase cost, service life, operating costs, revenue increase it could bring and its potential salvage value.
When it comes to repairing or replacing equipment, many stick to the old standby: If it can be repaired like new for less than 50 percent of the cost of a new vehicle, repair it. But it's also important to realize that this may not be the best advice when looking at machinery that is well past its prime when it comes to technology, safety and other enhancements.
Take stock of how old each piece of equipment in your business is. Older machinery will most likely require more repairs, whereas a newer piece will, in theory, not require as much repair work.
The more you have to invest in repairing your machinery, the more of a waste it can be on your budget. This is especially true if it would save you more money in the long run to just buy a new piece of equipment.
Preventative measures
The best defense is a good offense. That statement is an old one, but it rings true when it comes down to deciding whether to repair or replace equipment. The best way to stave off potential repair and replacement costs is to invest in high-quality machinery that is less likely to break down.
Granted, each piece of equipment is different and may not hold up to the advertised standards, but generally speaking, when you invest in better quality machinery it typically takes a bit longer for it to wear out.
As discussed previously, older equipment can prove to be a bit less reliable than updated machinery, which also means the safety factor for these pieces may not be up to par. Older equipment has a higher tendency to malfunction, even if it is regularly maintained.
Before making a final decision on what to do with a piece of equipment, inspect it carefully to determine whether or not it is still up to code with safety features. If it looks like it will not keep your workers safe, replacement is the best measure.