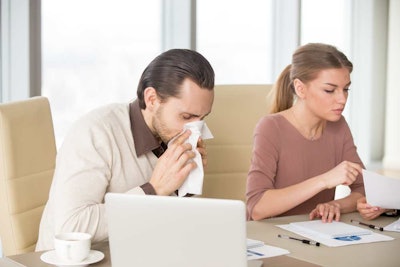 For those working with and out in the public, it's important to stay healthy and safe, especially during flu season.
Green industry professionals who travel to meet with customers face-to-face and rely on wellness to function on a daily basis know they need to stress to customers and staff members the importance of staying healthy and practicing preventive measures to stop the spread of potentially dangerous illnesses.
According to CNN, the Centers for Disease Control and Prevention recently estimated in their Morbidity and Mortality Weekly Report that this year's flu vaccine has been only 36 percent effective against both A and B virus strains.
"You're 36 percent less likely to get the flu and see the doctor if you get a flu shot," Alex Azar, Health and Human Services secretary, told CNN. "If a young child gets a flu shot, he or she is 59 percent less likely to get the virus and have to go to the doctor. Getting the flu shot is the same kind of sensible precaution as buckling your seat belt. If you got the flu shot but you end up catching the flu, it could be less severe and less likely to land you in the hospital."
CNN reports that 69 percent of this year's flu season sickness was caused by the H3N2 strain, which is an influenza A virus. The CDC says this year's vaccine showed only a 25 percent effectiveness against this strain.
To keep your employees, yourself and your customers safe from the spread of the flu, take a look at a few simple steps the CDC suggests acting on.
Signs and symptoms
The CDC says that the flu virus can cause mild to severe sickness. In some instances, as we've already seen this year, it can also lead to death. What many falsely diagnose as a cold can quickly turn out to be the flu, and knowing the difference could make all the difference in the world.
Unlike a cold, the flu typically comes on very quickly and will exhibit some or all of the following symptoms:
Fever or feeling feverish/chills
Cough
Sore throat
Runny or stuffy nose
Muscle or body aches
Headaches
Fatigue (tiredness)
Some people may have vomiting and diarrhea, though this is more common in children than adults
The CDC notes that not everyone who has the flu will have a fever, so don't count it out just because there is no fever present.
Sickness and flu shots
If you, your staff members or even your customers have been positively diagnosed with the flu, do not come into work or ask crew members to do work that may expose them in any way to the flu. The best course of action is to stay at home, rest up and avoid contact with other people, except when seeking medical attention.
For those who have the flu and are very sick, the CDC recommends the use of antiviral drugs early on. The CDC recommends that everyone, whether sick or well, get a flu shot because the flu viruses are still circulating.
"Flu vaccination is the best way to prevent flu illness and serious flu complications, including those that can result in hospitalization," the CDC says on their website. "Unfortunately, flu vaccines don't work as well against H3N2 viruses, which means that some people who got vaccinated will still get sick; however, there are some data to suggest that flu vaccination may make illness milder."
The CDC reports that flu vaccines typically work better against H1N1 viruses, and that virus strain is currently circulating as well.
For those opposed to getting flu shots, keep in mind that it not only protects you from potentially contracting the virus, it also helps those more vulnerable to sickness avoid catching the virus from you, such as elderly customers, those with small children/pregnant women or those with other chronic health conditions.
The CDC does say that the current flu vaccines have not proven to be very effective against the H3N2 strain, but they still recommend getting the vaccine to ward off other prominent strains in circulation.
Other tips to help protect yourself
The CDC recommends avoiding any and all contact with individuals with the flu. While there are many employees and bosses out there who would rather go to work sick than take a few days off, this is the worst plan of action at this time.
Rather than potentially infecting an entire crew or an entire household of loyal customers, err on the side of caution and just call in sick. In the long run, your company and clients will thank you for it.
After being diagnosed with the flu or exhibiting flu-like symptoms, remain isolated for at least 24 hours after the fever has subsided without the use of fever-reducing drugs.
The CDC recommends the following extra tips to help keep the spread of germs to a minimum:
Make sure you cover your nose and mouth with a tissue when you cough or sneeze. Throw the tissue in the trash after you use it.
Wash your hands often with soap and water.
Avoid touching your eyes, nose and mouth.
Clean and disinfect surfaces and objects that may be contaminated with germs like the flu.
For a more detailed look at the CDC's Weekly U.S. Influenza Surveillance Report, click here.