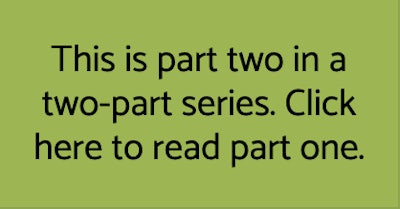 Yesterday we covered how to define your brand and looked into some of the visual aspects of branding, but now it's time to dive a little deeper into the intangible elements of a company brand.
Values
While having crews in sharp uniforms and clean, painted trucks are a good starting point for creating brand recognition among the community, this is not what truly makes your company who you are.
"It's just a façade of who we are, and that brand is nothing without us really telling ourselves and holding ourselves accountable to be the people that we say that we're going to be," says Andrew McCurry, co-founder and co-owner of Father Nature Landscapes, based in Birmingham, Alabama. "Anybody can put on a colored T-shirt and look like part of the team, but how does that team perform? What does that team stand for? And that goes back to who we are and who we're trying to be on a regular basis."
It is the core values that define your company, but McCurry says even these values mean nothing if you do not hold your people accountable to them.
"One of our core values is integrity," McCurry says. "We must have and execute integrity in everything that we do and ask what does integrity look like in this situation; I have those conversations regularly about that. Maintaining our brand is making sure we stick within our core values and not jump outside of that because it's easier or because we just choose to be negligent."
Don't feel like you have to spend hours trying to develop a list of main principles to list on your website for your customers' sake. Chances are they already know what standards you follow, but if you want to hone in on what makes you distinct, listen to client feedback.
"It's not saying 'Hey, here's our seven core values,'" McCurry says. "It's what do our customers say about us consistently. Those are really our core values because that's what we're living out on a daily basis. If your customers consistently say the same things about you time and time again, that's what builds a reputation and those are really your core values."
Some of the other intangible elements of your brand include your communication, your follow-up and what you're known for in the community. These aspects require consistency and doing your very best on a daily basis.
"Continuing the great service, appreciating clients who have been with us for a long time, recognizing them, thanking them and just making sure we do the very best we can do. If you don't do that, then your identity's going to start to disappear and you're not going to be known what you're known for," says Jeff Cartwright, owner of Cartwright Landscaping based in Richmond, Virginia.
Web presence
One method Father Nature uses to maintain its relationships with customers is staying active on social media.
"It's very personal," says Daniel McCurry, co-founder and co-owner of Father Nature. "Instagram to me is like a sticky note to all of our clients. It's like a regular note about what we have going on."
Father Nature shares updates on everything from projects to internal training to lighthearted moments to holiday well-wishes. Even though Andrew isn't personally a fan of communicating on social media, he still acknowledges how important it is for their brand.
Meanwhile, Cartwright uses his various social media accounts on Facebook, Pinterest, Instagram, YouTube and Houzz to help give potential clients a good comfort level with the company's brand and what they do.
"I think it's very important because it's what people look at, and even if it becomes almost to the point where we do too much, at least you're front of mind for people," Cartwright says. "People see it and they know you what you do."
Just like having an active social media presence is important for letting your customers know your brand is thriving, having an out-of-date website, in turn, makes you look outdated.
"If people want a fresh look and they come to you because you are the fresh company and they go to your website and it looks dull, outdated and stale then that's going to represent exactly who you are," Andrew McCurry says.
Because websites are more likely to be potential customers' first interaction with the brand, it's important to portray the qualities you represent.
"Having a bad website but saying you're the best in town or feeling like you're the most innovative in town…That would just be very misrepresentative of who you are and what you're saying and would be a red flag right off the bat by having a stale, out-of-date or even a nonexistent website," Andrew McCurry says.
Protecting your brand
Father Nature actually went through a website redesign after its advisors noted the site was becoming dated. It took a year and a half and cost over $10,000, but it also allowed McCurry to redeem the website, as it had been hacked by men's medicinal product brands around the same time they planned to update.
"We could not do anything about it," Andrew McCurry says. "In my opinion, that was trespassing, and they were using our site to embed words within our content. I truly believe it hurt our brand in a major way."
While McCurry acknowledges you can't build an expensive website every time this happens, it is one of the many possible threats your brand has to face. Thankfully, not all the perils your brand encounters will leave you powerless.
A common one that Father Nature and Cartwright Landscaping have dealt with are the one-star reviews. In both cases, McCurry and Cartwright tried to contact the reviewer in order to understand the situation and remedy it, but both individuals never responded and therein lies the true challenge.
"Facebook's not going to take it down, unless it's obscene or something," Cartwright says. "I think that's a big deal. I think that's where Angie's List is good because they actually check the stuff (reviews). I think there's a lot of stuff like Google and Facebook where there's no way to really police that. So that's an issue, but it is what it is, and you make up for that with other good reviews."
Another issue that can harm your brand can occur when you are at your most successful.
"We've become extremely desirable to where we're not even able to handle the amount of leads that come in because of that brand that we've created," Daniel McCurry says. "There's been a couple of seasons that we have not handled that the best that we could."
Daniel says that before the company was comfortable with giving leads away, they hurt their brand by not handling the excessive amount of leads properly by suggesting other landscaping companies to customers they couldn't accommodate.
"Like anything, you have issues that come up and how you address them matters, but you want to protect your brand, so you want to make sure people are happy at the end of the day," Cartwright says. "And sometimes you got to bend a little bit to make those people happy. You might have to do a little bit more work. You might have to cut your pricing if there was a disagreement on pricing. But again, it just goes to doing whatever you can do to keep clients happy within reason."
Rebranding
As for when it's time to rebrand a company, Cartwright says this should only occur when the company has been bought, sold or merged with another company.
"Not until they redefine who they are and who they want to be," Andrew McCurry says. "Just because Billy Bob's wants to rebrand, they're still going to be Billy Bob's because the brand only represents who you really are. I would never say rebrand unless there's an inward change first."
An example Andrew gave of an inward change would be someone becoming a Christian.
"Their Christian values now maybe change the way they think through business," McCurry says. "That might be a time to rebrand because you've become a different person and you've instilled a different set of values within yourself and within your company."
At the end of the day, the McCurry brothers agree that rebranding only works if the person has truly changed.
"You can post whatever you want to post and put up anything you want to on a website about your values, but you have to support your values and you have to fight for them or else they mean nothing; they're just words," Andrew McCurry says.
"Your brand is your reputation, eventually, and it's all you have," Cartwright says. "Without your brand, without your reputation, who are you? You have no identity. Your brand is not only just a logo or a name. It's much more and it's what people know you for. It's why people call you."