For customers who have pets and want them to enjoy the outdoors, consider talking to them about safe plants they can incorporate into their existing landscape. Or if they are new to the world of landscaping and want to create something new and unique, talk to them about the possibility of installing a pet-friendly garden.
Pet-friendly gardens may sound as simple as not having plants that are toxic to pets, but they can actually include plants that serve as tasty treats for animals while still being attractive in the landscape.
According to Pet MD, animal experts have determined that some pets will intuitively eat plants around a yard because of their specific medicinal value, as long as they have a variety of plants to choose from. Many customers will choose flowers for their yard because of their look or fragrance without thinking of the possibility of edibility.
When a customer's pet only has landscaping or household plants to choose from for snacks, it can lead to stomach problems for the pet, especially if those plants have been treated with fertilizers or pesticides.
For the best results all around – a well-groomed lawn and a safe place for critters to snack – talk to your customers about setting aside space in their yard specifically for a pet garden. Whether they have a large, medium or small space to work with, there are plenty of options to add in to give both cats and dogs enough greens to munch on. Some of these plants can even double as home remedies for your customers.
Take a look at just a few of the most popular plants that can provide nourishment for pets while still adding texture and design elements to a landscape.
Burdock herb (Arctium lappa)
Burdock herbs are a traditional medicinal plant that Pet MD says are used worldwide, and they are known for their ability to help treat digestive and kidney issues, as well as treating allergies. These plants thrive best in rich soil, but it's important to not let them grow too large. If they are allowed to grow too big, they can take over a garden. The plant's bright purple thistle-like blossoms also bring a pop of color to the garden.
________________________________________________________
Milk thistle (Silybum marianum)
Milk thistle is a low-maintenance plant and is said to be good for liver disorders. This plant will thrive in both wet and dry soils, and they need to be placed in either a sunny or partially sunny location. Once the plant begins to produce its flower heads, these heads should be removed to keep it from becoming too weed-hardy.
________________________________________________________
Peppermint (Mentha piperita)
Peppermint is another easy-to-grow plant, and it can be found in many stores. It can be planted in moist, rich soil, and it thrives in both sun and shade. The leaves can help with indigestion and nausea, but it's important not to forget that the sprigs need to be cut back regularly. This will help encourage new and healthy growth. Peppermint does require ample amounts of water, and it's imperative that the soil it's planted in have excellent drainage.
________________________________________________________
Astragalus herb (Astragalus membranaceus)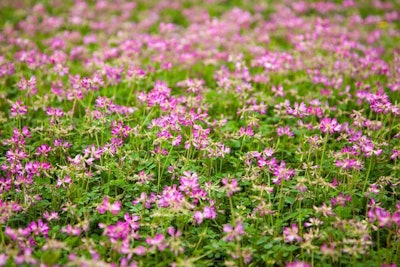 The Astragalus herb is excellent for lowering blood pressure, improving digestion, decreasing blood sugar and promoting healing because of the antioxidants it produces. It can sometimes be used topically for wound care, and it typically grows to be around 16 to 36 inches tall. Before planting it in sandy soil, the plant needs to be scratched, according to Pet MD.
________________________________________________________
Garlic (Allium sativum)
Garlic is known overall as an immune booster, and on top of that, it's easy to grow. They can even be started from a bulb purchased at a store by pushing the cloves under the soil with the pointed side up. When eaten in large amounts, garlic cloves can make dogs sick and are toxic to cats. However, the grass that grows from the cloves can serve as a nice pick-me-up cat snack.
Click here to see even more plants that are poisonous for cats.