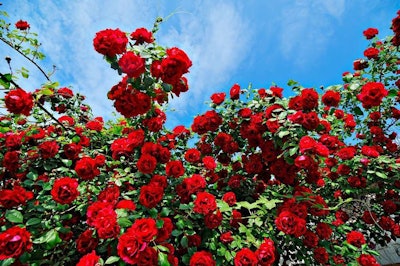 Contrary to popular belief, February and March are excellent times to start planting roses.
Many landscapers will wait until April and May to begin planting roses because this is when the plants are already in bloom, and many nurseries will get their stock of roses in around January and February. But when planted early, like in February and March, rose bushes have the chance to produce roots into the soil, and they will be well settled by the time they begin to bloom.
Because they are able to get that instant burst of color, people tend to flock to planting rose bushes that are already in bloom, but this makes it harder for the roses to adapt to their new surroundings and produce a fair amount of growth.
Additionally, roses planted in April and May are doomed to face the upcoming summer heat sooner than later. Roses planted in February and March are able to establish roots while the weather is mild and are able to deal with the heat better once it arrives.
It's also good to remind customers that some roses may be considered low maintenance but that doesn't mean the same thing as no maintenance. Stress to clients the importance of either pruning their roses themselves or hiring you to perform this regular bit of upkeep.
Each type of rose is different and has its own specific set of pruning techniques. Timing can vary a bit as well, but the goals are always the same: removing diseased or damaged wood, increasing air circulation, shaping the plant and encouraging growth on flowering wood.
If you find that more and more customers are requesting roses in their landscapes, keep these tips in mind when planning out their placement and care.
What and where to plant
The first step in giving your customers the landscape they crave is to first decide what type of roses they want. Some customers will come into a project having specific ideas of what plants they want, and others will be open to your suggestions and rely on your input. Regardless of which customer you have, it's important to take stock of their landscape, climate, etc. before making a decision.
Whether your customers are wanting roses strictly for decorating or specifically want long stems, short stems or climbing varieties, there are many different varieties to choose from.
When choosing a location for your customer's roses, pay close attention to growing conditions. Roses should not be planted in areas that are partly shady or completely shady. To thrive, roses will need anywhere from six to eight hours of direct sun each day, and any shade they do receive should, ideally, come during the afternoon. These plants will also need excellent drainage, so avoid areas that are lower and retain water unless you are planting a rose that thrives in watery areas.
Preparing and planting
Regardless of whether your customers already have a designated area for roses or you are creating a new space for them, the soil and surrounding areas need to be carefully prepared.
To begin, clear the area of any unwanted vegetation, such as turfgrass, weeds and more. Next, be sure to turn the soil at least 8 to 10 inches deep and spread amendments over the soil. After this, add in at least 4 inches of organic matter, such as compost, rotted manure, finely ground pine bark or sphagnum peat.
Next, add a general purpose fertilizer to the bed and make sure you dig it into the soil. To find out if any other specific amendments should be added to the soil, be sure to have the soil tested. If there are any additional amendments needed, add them and blend them into the soil thoroughly and finish by raking it smooth.
For bare-root planting, remove the plants from their wrapper and put the roots in water. Have the hole ready in the prepared soil that's as deep and wide as the root system, and place a cone of soil in the hole. Take the roots and spread them over the cone and hold the plant over the cone so the graft union is about 2 inches higher than the soil's bed.
While holding the plant in place, use your other hand to push and firm the soil into the hole and cover the roots. Be sure to keep the graft union above the soil when the planting is finished.
Be sure to finish up this planting with a thorough watering to help the soil and mulch settle.