Editor's note: This is part two of a two-part series. Click here to read part one. Mower Matchup was created to delve into the pros and cons of various mower features and provide a comprehensive look at popular mower manufacture specs. Click here to download the full Mower Matchup series.
---
What landscapers want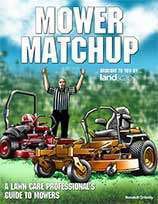 Want to download the entire Mower Matchup series, including makes, models and details on dozens of mowers from the editors at TLC?
So what features are attracting landscapers these days?
According to Simmon, Grasshopper buyers have shown the most interest in overall machine productivity, comfort, machine longevity, achieving a clean cut, avoiding downtime and the ability to perform repairs in the field if necessary.
Conversations with landscapers tend to focus on the overall productivity of the machine, according to Simmon. "They want to be able to mow at a fast pace and get a great cut on the first go around without having to go back and re-cut or clean things up," he said.
When meeting with landscapers to discuss future equipment improvements, Grasshopper talks about the design of the machine, including air flow under the deck, blades, spindles and more.
Landscapers tell the company they want the ability to make fluid, smooth turns. "They don't want to tear up things," Simmons said. "And they want to be comfortable. They're on those mowers day in and day out."
In pursuit of comfort, the company has discussed more comfortable seating options and suspension systems that can significantly reduce the amount of vibrations and shocks experienced while mowing.
Minas says that an increased focus on operator comfort has also driven the development of new features for John Deere mowers.
"Additions like ergonomic operator controls, air suspension upholstered seats and cab machines with heat and air keep the operator comfortable throughout the workday, ultimately improving productivity," Minas said.
Field reliability advancements is another area of concentration. "They don't want downtime," Simmon said. "If something breaks in the field, they need to be able to either fix it right away themselves or be able to get it to a dealer to have it fixed."
The most popular features on Husqvarna mowers are those that allow customers to stay active in the field the longest.
"Every time a mower shuts down for any reason, whether it's because a belt breaks or because they need to sharpen blades or whatever it is, they need to keep the machine in service as long as possible for the entire season with no interruptions," Reister said.
Design elements such as larger fuel tanks or torsion springs in belt systems will help keep landscapers productive on the jobsite throughout the day, Reister said.
For John Deere customers, Minas says uptime and fuel-efficiency continue to be top concerns, leading Deere to incorporate Electronic Fuel Injection (EFI) engines.
"Commonly used in smaller block engines, we are now seeing more options in the mid-block range and greater," Minas said. "Providing up to 25 percent more fuel savings, the benefits of EFI drive this trend."
Using your machine's data
While some companies might not have a current focus on collecting data from their mower's telematics, John Deere and Husqvarna have seen increasing customer interest in using this data in their operations.
"We are seeing more landscapers who are interested in analyzing business data to identify trends and ways to improve operations," Minas said. "As more landscapers realize the benefits of data collection, we anticipate increased interest."
It also reflects the fact that the landscaping market is becoming more competitive, with some competing on a national basis, Reister said.
Telematics data helps landscapers know where their equipment is located, its operating condition, how fuel efficient it is and how many acres per hour a mower is cutting. "These are all metrics that anybody with more than three trailers in their fleet wants to know," Reister said, adding that even smaller operations are becoming interested in understanding the efficiency of their machines.
Deck sizes
The popularity of certain sizes of decks is usually dependent on the region and market served.
For Grasshopper, Simmon says the 52- and 61-inch are the most popular deck sizes they offer. In areas with tighter spaces, there's the option of the 42- and 48-inch deck, but these smaller sizes are typically used more in residential than commercial work.
"When selecting mower deck size, landscapers are considering the needs of their operation and the properties they maintain," Minas said. "Landscapers are also evaluating trailer size and how many units they can transport to help determine which deck size is best."
Technology that's here now
Two popular pieces of technology that John Deere has incorporated in its mower offering include Mulch On Demand and the Michelin X Tweel Turf airless radial tire.
"Mulch On Demand enables the operator to switch between mulching and side-discharging without ever leaving the seat," Minas said. "It reduces the time spent cleaning up clippings from driveways and sidewalks by allowing the operator to easily close off the discharge chute."
Deere also offers the Michelin X Tweel Turf airless radial tire, which it says virtually eliminates flats and is nearly maintenance free. Additionally, the tire minimizes the cost and time spent on repairs and maintenance of traditional pneumatic tires, according to the company. It's available for John Deere 900 Series ZTrak mowers and R Series QuikTrak mowers.
Mower market over the next few years
Manufacturers remain optimistic about the future of landscaping, seeing growth in the demand for landscaping services.
"It's still going to be a service that's going to be in demand," Simmons said. And if homeownership continues to grow, "then they have to maintain those properties somehow."
Reister believes a few key factors will drive market demand.
"We were watching closely to see if millennials were going to continue the suburban trend, and that's proving to be the case," Reister said. "We were worried that they might urbanize – meaning not own homes – and that didn't pan out. We're seeing that it's going to continue as it has for the past couple of decades."